GS Welcomes Fall 2020 Incoming Students
On Monday, August 31, 2020, more than 800 incoming School of General Studies (GS) undergraduate and Postbac Premed students along with their guests, GS staff, and Orientation Leaders, convened for the School's first-ever virtual New Student Welcome event—streamed live on the School's website—to celebrate the beginning of the fall 2020 semester. 
September 08, 2020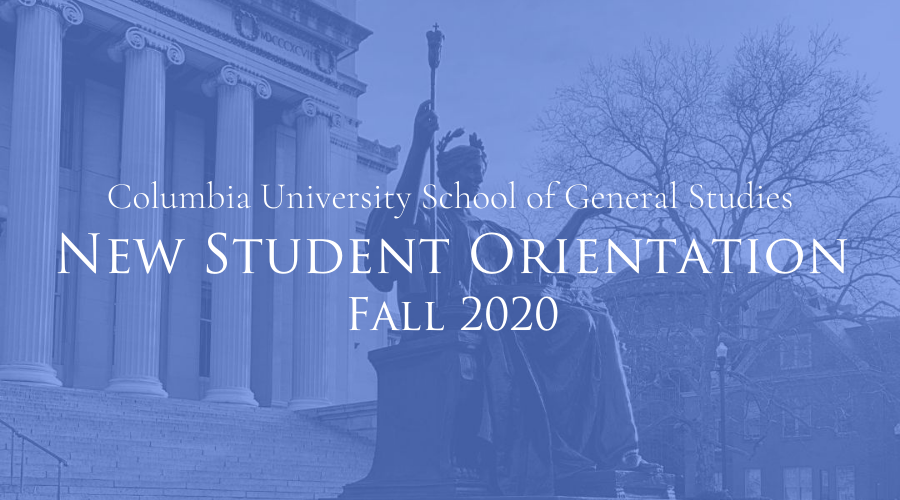 GS Orientation Week was a fully virtual experience disseminated through a combination of modalities including independently reviewed materials, live interactive workshops, panels, meet & greets, and socials during the week of Monday, August 31 - Sunday, September 6.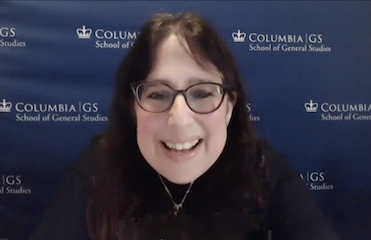 Lisa Rosen-Metsch, Dean of the School of General Studies opened the ceremony by praising the resilience and flexibility of the incoming class.
"Your paths to GS were filled with obstacles you overcame, challenges you rose to meet, and difficult choices you made," Dean Rosen-Metsch said.
Dean Rosen-Metsch then introduced Lee C. Bollinger, President of Columbia University, who spoke to the power of the nontraditional students that make up the GS student body.
"A General Studies student is defined by the uniqueness of your lives. You are, by common description, the nontraditional student. I would say you are the student we all want."
After Bollinger's remarks, Dean Rosen-Metsch once more addressed the strengths that the diversity of the GS student body brings to the Columbia classroom, saying, "We prove time and time again that the classroom is far more engaging when GS students, with your diversity of life and academic experiences, are brought together in the classroom with students from traditional backgrounds - to benefit and engage one another intellectually and socially in creative ways."
A General Studies student is defined by the uniqueness of your lives. You are, by common description, the nontraditional student. I would say you are the student we all want.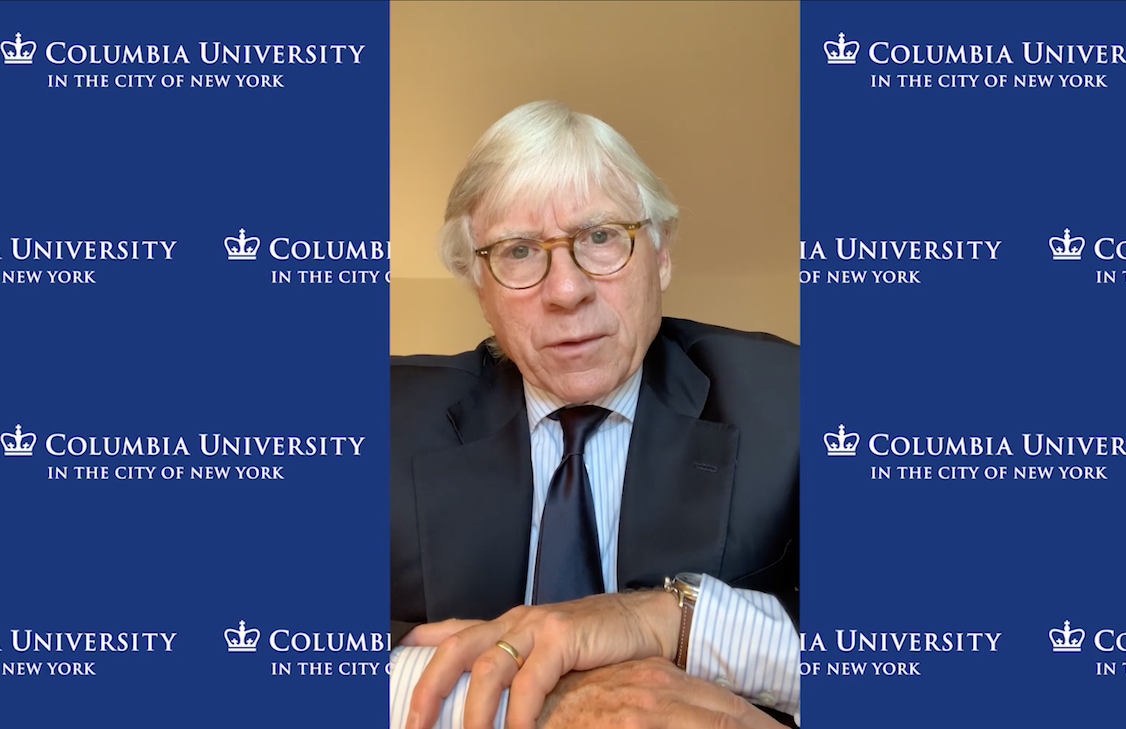 Dean Rosen-Metsch then introduced Dean of Students, Marlyn Delva, who reflected on her eventful first year at the School of General Studies after joining GS from Columbia Mailman School of Public Health.
"Whether remote or in person, you will experience a community ready to respect your history but help you build your future. A community committed to your success while helping you learn as well as support you."
"You are coming to school during a unique time in your life and in history. There is much change and uncertainty but there is also faith for new beginnings, new learning, and new pathways for growth," Dean Delva said.
Dean Delva then introduced Dr. James Colgrove, Dean of the Postbaccalaureate Premedical Program at the School of General Studies, who spoke of the importance and heroism in joining the medical community at this time.
Your paths to GS were filled with obstacles you overcame, challenges you rose to meet, and difficult choices you made.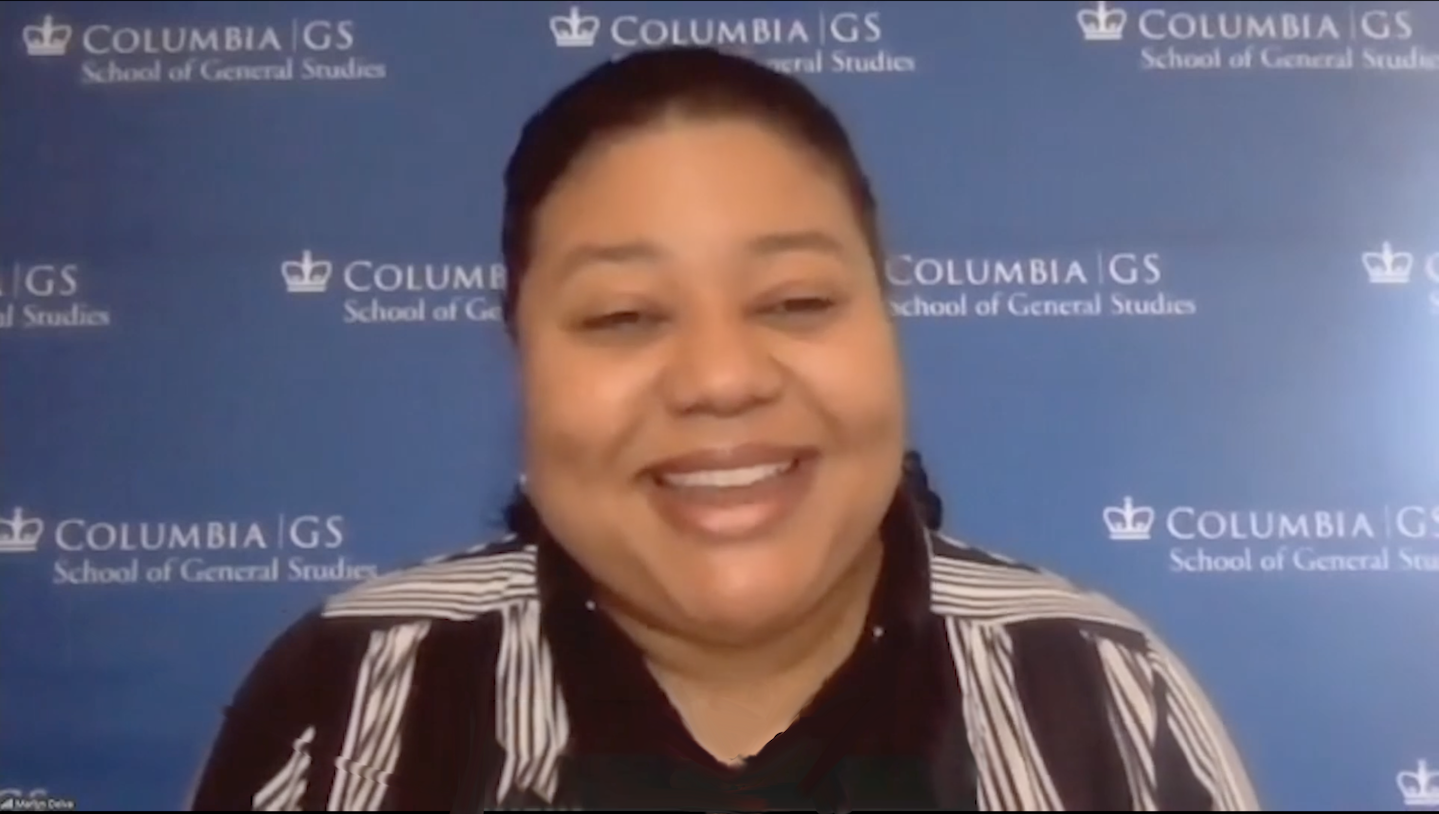 "In whatever direction your future health care career takes you, whether it's as a clinician, a researcher, a policy advocate, a hospital administrator, or all of the above, your work will provide you with unique opportunities to bring about the healthy and just society that we all want to see," he said.
Students heard from General Studies Student Council President, Jane Jeong, who shared her story of fighting both an autoimmune disease and racism in her first attempt at college as well as her delight in serving as Student Body President.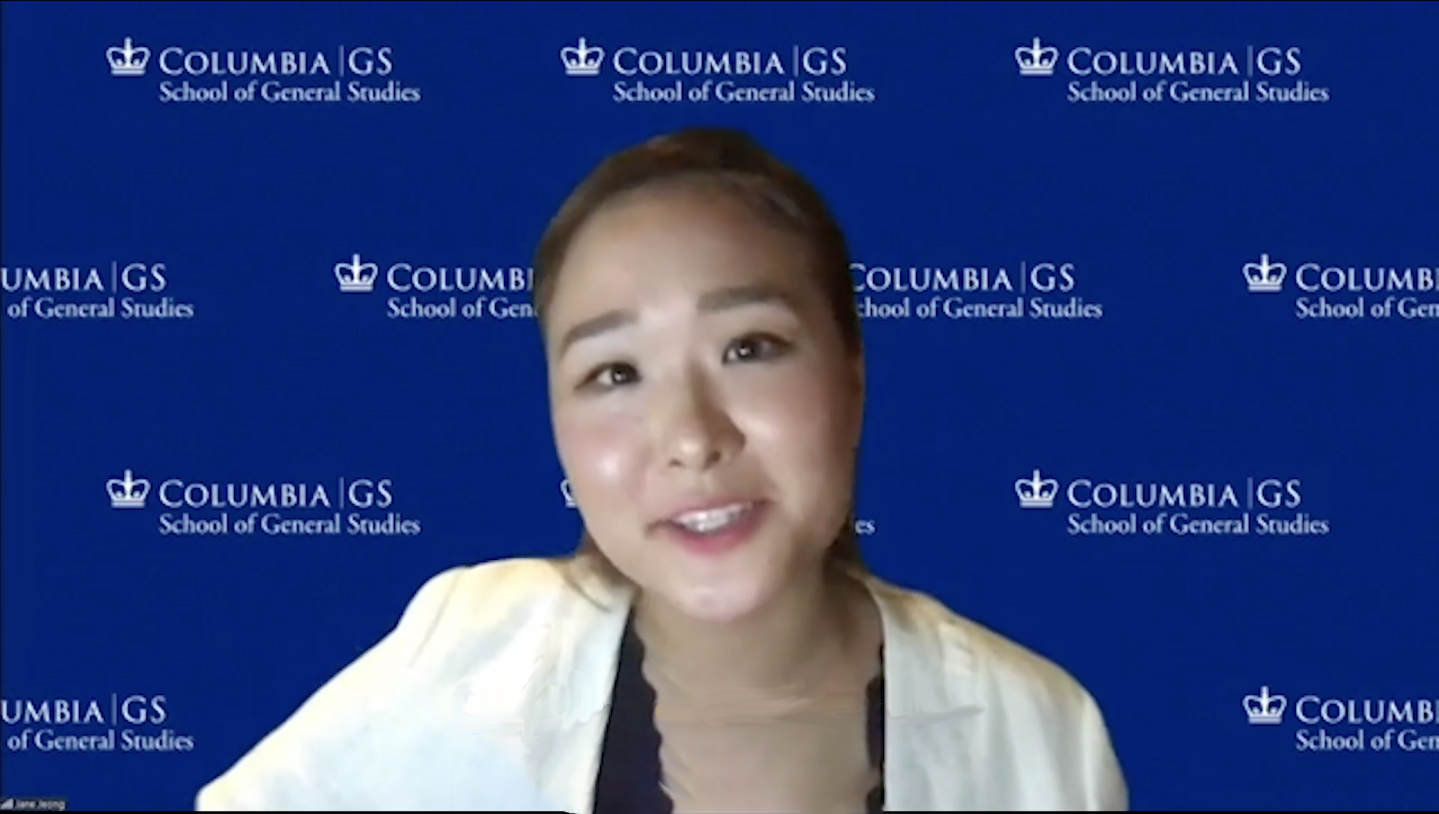 "This time last year, I remember sitting in Orientation, never imagining I'd be here today welcoming you to this school that I love so much. I remember intently listening to the words welcoming me, surrounded by strangers who would soon become my friends and classmates, and a revelation washing over me that everything in my life had happened to bring me to GS, a place where I was home," Jeong said.
Incoming students also heard from Ariel Katz, List College Student Council President, Hunter Drake, Premedical Association President, Kirsty Jardine '15, Co-chair of the General Studies Alumni Association, and Dean of Academic Affairs, Victoria Rosner. Each of these speakers echoed to incoming students how remarkable an achievement and privilege it is to attend Columbia in spite of the circumstances facing them right now, encouraging them to take advantage of the diverse community and resources available to them throughout their academic career.
Incoming GS students make up a diverse student body, which boasts 127 armed forced veterans, including 76 U.S. military veterans and 51 veterans from foreign militaries, as well as international students representing 18 countries. It also includes professional ballet dancers, librarians, writers, athletes, models, musicians, teachers, designers, gardeners, construction workers, journalists, engineers, entrepreneurs, consultants, investment bankers, retail workers, real estate agents, workers in the nonprofit, government, hospitality, and tech sectors, and public health advocates.
Throughout the remainder of Orientation Week, NSOP Orientation Leaders guided new GS students through virtual social mixers, as well as workshops about campus resources and academic practices at Columbia. NSOP is instrumental to new students' integration at the University and provides numerous opportunities to meet new and returning students, as well as alumni, before fall classes begin. 
An Overview of the Fall 2020 Entering Class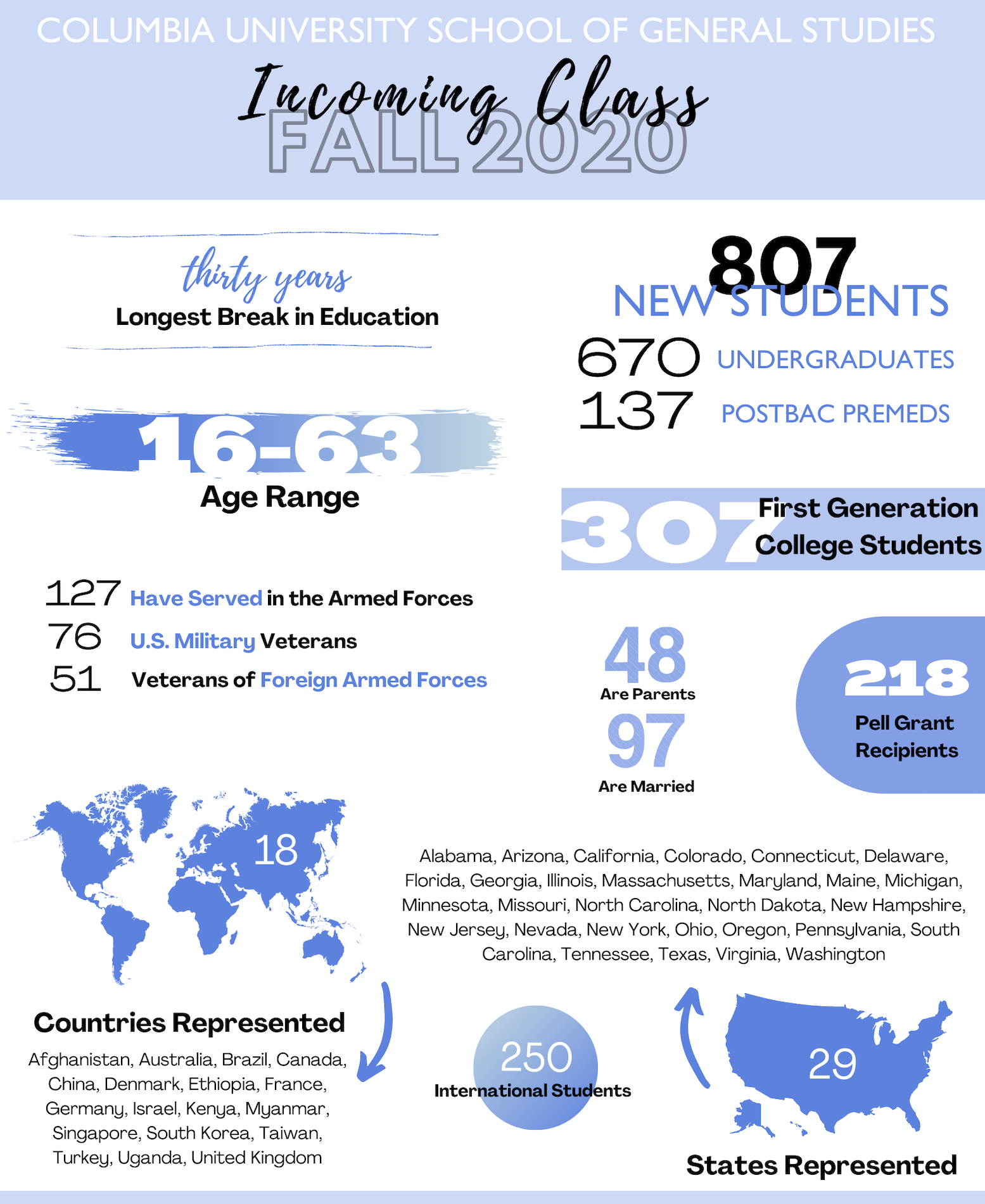 The School of General Studies continues to be one of the most diverse undergraduate colleges in the Ivy League, and this year's incoming class is no exception. The presence of GS students creates a truly global diversity of socio-economic backgrounds, age, life and career experience, and perspective in the University's classrooms. 
31% of the incoming students are international students
38% of the incoming students are first-generation college students
27% of the incoming students are eligible for a Pell Grant
27% of the incoming students are U.S. military veterans
Enrollment
Undergraduate: 670
Postbac Premed: 137
Demographics
Age range: 16-63
Students who are married: 12%
Students with children: 6%
U.S. Residents from 29 states
Citizenship
Eighteen countries are represented, including: Afghanistan, Australia, Brazil, Canada, China, Denmark, Ethiopia, France, Germany, Israel, Kenya, Myanmar, Singapore, South Korea, Taiwan, Turkey, Uganda, United Kingdom