Peer Advising
Peer Advisor Availability
GS Peer Advisors are students who wish to provide support and advice about the opportunities and challenges at Columbia. Peer advisors are available to discuss academics, campus resources, personal concerns, and the transition to the School of General Studies.
Contact
Undergraduate Peer Advisors
gspeeradvising@columbia.edu
Peer Advisor Fall 2021 Availability
Mondays: 11 a.m. - 1 p.m. and 5:30 - 6:30 p.m.
Tuesdays: 9 - 11 a.m., 12 - 1 p.m. and 2 - 3 p.m.
Wednesdays: 9 - 11 a.m. and 3 - 4 p.m.
Thursdays: 11 a.m. - 2 p.m.
Caleb Bowen
English
Caleb is originally from Brooklyn, New York but moved to Peachtree City, Georgia at the age of 10. He joined the U.S. Coast Guard straight out of high school and served as a helicopter mechanic. He was stationed in Miami, Florida and New Orleans, Louisiana. After serving five years, he decided to go to college and pursue a BA in English. He is involved with MilVets, the Student-Governing Board, and Columbia Sharp a cappella group. Caleb hopes to pursue law school upon graduation. During his free time, Caleb enjoys live music, basketball, spending time with his grandparents, and trying out different coffee shops in NYC.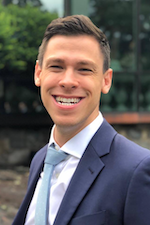 Avidan Brown
Political Science
Avidan is a native New Yorker. He postponed a traditional high school and college experience to pursue a career in competitive figure skating. After retirement and completion of his GED, he moved back to NYC to get married and attend GS. Avidan has served as President and VP of GS Alliance, been both a mentee and mentor in the GS Mentorship program, and been heavily involved with NSOP as an Orientation Leader and Crew Captain. He is also a working student, coaching a new generation of figure skaters around the tri-state area. In his free time, he enjoys and values spending time with friends and family, watching films, and experimenting with new recipes in the kitchen.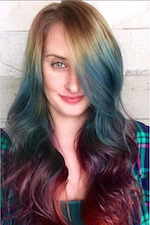 Jacquelyn (Jackie) Leslie
Psychology
Jacquelyn (Jackie) Leslie is a transplant from Los Angeles, California. She worked in various fields before finding her niche within Easterseals Southern California's Autism Department. She then decided to return to school in hopes of pursuing a more hands-on career within the field. After moving to NYC she attended BMCC for one year. When she heard about the GS program, she jumped at the opportunity. She is currently a psychology major planning on attending grad school to become an Occupational Therapist. She is always available to recommend a good book and good laugh, whether it is with her or at her expense.  
Liam McGrane
Philosophy/Computer Science
Originally from the UK, Liam moved to NYC in 2019. Before that, a one-year stint at university for Architecture didn't quite go according to plan, and he worked for many years in retail and tutoring. Six years later, he decided to try furthering his education once again, this time at Columbia GS, where he's looking to double major in Philosophy and Computer Science. Liam has worked on GSSC as Vice President of Campus Life and contributed to The Columbia Spectator as a cartoonist. His interests include writing, playing board games, and spending time with his wife.
Hunter Rhoades
Human Rights
Hunter is originally from Alaska but has joyfully embraced urban life as a New Yorker. Before GS, he attended college part-time in several states before meeting his wife and enjoyed an eight-year career serving as a police supervisor, investigator, and SWAT officer. At Columbia, he is involved in men's lightweight rowing and hopes to attend both divinity and law school, after which he hopes to re-enter public service as an attorney. In his spare time, Hunter enjoys NYC dining culture and is a loyal fan of the Metropolitan Opera.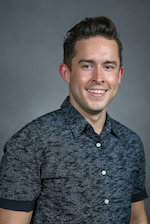 Nic Rockwood
Computer Science
Nic was raised in Mt. Dora Florida and initially pursued a theatre degree from The College of William and Mary following high school. However, after two years, he moved to New York City and has been here ever since. Before coming to Columbia, Nic was the founder of the Lovesick Production Company, producing projects across a myriad of genres with a focus on developing works by underrepresented artists. Now pursuing a degree in Computer Science, Nic has also been involved with GSSC, Design @ Columbia, GS Alliance, and the Recovery Coalition. In his free time, he enjoys going to the theatre, memes, and scouring NYC for new restaurants.
Raysa Schumacher
Astrophysics
Raysa was born in Colombia, but moved to Miami, Florida at six years old. She attended Florida International University right after high school, but decided that college was not the best decision at the time. She jumped into the workforce—working in the airline industry as a flight attendant and as an esthetician. Raysa decided to go back to college in spring 2019 to earn her Associate's degree at Palm Beach State College. Upon graduation, she received admission to Columbia in 2020 to pursue her degree in Astrophysics. She hopes to continue on to graduate school to pursue a PhD. In her free time, Raysa enjoys reading, kayaking, crossfit, and spending time with her husband and dogs.
Je Seung (Jason) You
Computer Science/Mathematics 
Jason was born and raised in Seoul, South Korea. Before he started his GS journey, he worked for his social enterprise startup in education few years, and then he served two years for the Second Infantry Division of the United States Army as the part of Korean Augmentation of the United States Army Program. He is a member of the Class of 2021 majoring in computer science with a mathematics concentration. Along with peer advising, he is serving as Martial Arts Representative of Columbia Club Sports Governing Board.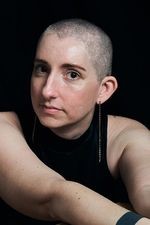 Jennifer (Jenn) Todaro
Archaeology
Following high school, Jenn went to community college, earning an AA in Graphic Design. After over a decade of disinterest in her work, she decided to go back to school to pursue her newly-discovered, life-long passion for archaeology. Jenn and her husband arrived here from Pennsylvania in the fall of 2018, and have found a second home in NYC. In addition to her classes, Jenn is a fixture in the archaeology and osteology open labs and was previously involved with CUFSN. She's currently the GS representative on the Libraries Student Advisory Committee, and plans to earn a PhD in tattoo archaeology. Jenn's non-academic interests include science fiction and fantasy in any medium, hand-poke tattooing, and catching up with friends.