Peer Advising
GS Peer Advisors are students who wish to provide support and advice about the opportunities and challenges at Columbia. Peer Advisors are available to discuss academics, campus resources, personal concerns, and the transition to the School of General Studies.
Peer Advisor Availability
Jason (Jay) Walker was raised in Rockland County, NY. After working in construction for over 15 years, he went back to school and graduated from Rockland Community College in the spring of 2016. He's looking forward to completing the neuroscience and behavior major at GS, and intends to apply to medical schools shortly after graduation. In addition to peer advising, Jay still works part-time in the construction industry.
Lori Paulson is a born-and-bred Seattleite who transferred to GS from North Seattle College to study psychology. Before returning to school, she worked in retail management and operations for nearly 12 years and plans to pursue her interest in organizational psychology after graduating. She'd love to chat about mental health or your next favorite album!
Matthew Linsky was born and raised in Florida, transferred to GS from Santa Monica College after nearly a decade in the music industry, and plans to attend law school. A political science major, he is involved with GSSC, the Food Pantry at Columbia, the GS Peer Mentorship Program, and the JED Foundation. In his spare time, Matthew enjoys memes, cheese, and yelling at the sportsball person on the television.
Je Seung You was born and raised in Seoul, South Korea. Before he started his GS journey, he worked for his social enterprise startup in education few years, and then he served two years for the Second Infantry Division of the United States Army as the part of Korean Augmentation of the United States Army Program. He is a member of the Class of 2021 majoring in computer science with a mathematics concentration. Along with peer advising, he is serving as Martial Arts Representative of Columbia Club Sports Governing Board.
Ceon White was born and raised in Kingston, Jamaica W.I before immigrating to Brooklyn, New York. After working in various industries and attending various schools, he transferred to GS from Northampton Community College in the fall of 2017. He is a political science major and plans to attend law school.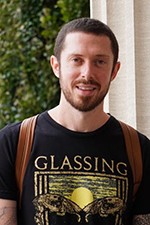 Christopher Thompson grew up in New Orleans and has since lived in many places in the U.S. and Europe. He worked as a musician and fine-dining chef for the 10 years prior to enrolling at Red Rocks Community College in Denver, Colorado, where he studied for a year before coming to Columbia. Chris is very involved on campus, including serving for the past year as the General Studies Student Council President. He recently completed his senior thesis in Sociocultural Anthropology, and is looking forward to beginning an Anthropology PhD upon graduation.