Peer Advising
Peer Advisor Availability
GS Peer Advisors are students who wish to provide support and advice about the opportunities and challenges at Columbia. Peer advisors are available to discuss academics, campus resources, personal concerns, and the transition to the School of General Studies.
Contact
Undergraduate Peer Advisors
gspeeradvising@columbia.edu
Peer Advisor Summer 2021 Availability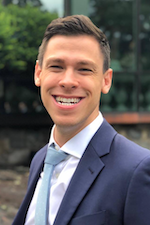 Avidan Brown
Political Science
Avidan is a native New Yorker. He postponed a traditional high school and college experience to pursue a career in competitive figure skating. After retirement and completion of his GED, he moved back to NYC to get married and attend GS. Avidan has served as President and VP of GS Alliance, been both a mentee and mentor in the GS Mentorship program, and been heavily involved with NSOP as an Orientation Leader and Crew Captain. He is also a working student, coaching a new generation of figure skaters around the tri-state area. In his free time, he enjoys and values spending time with friends and family, watching films, and experimenting with new recipes in the kitchen.
Taj Felix
Psychology
Taj was born and lived in Castries, Saint Lucia before immigrating to Brooklyn, NY. After attending school at Penn State University he returned to New York and worked for 8 years in the fitness/health industry. He attended BMCC and transferred into GS spring 2018 where he currently majors in psychology with the intention of a career in healthcare/medicine. Here he was involved with the CU Community Impact and CU Wellness Leaders programs. Sports, food, comedy, and memes are a must. Always down to be your workout partner.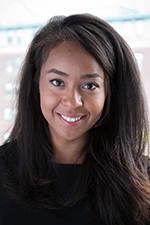 Melody (Mel) Gomez
Neurosciences and Behavior
Mel was born and raised in the Bronx. She attended LaGuardia Community College where she graduated in 2016. Before attending GS, she worked in the fitness industry as a health club manager and personal trainer. She hopes to obtain a dual MD/P.h.D. in Psychiatry and Clinical Psychology after graduating. She's currently involved in student groups of/with underrepresented, low-income college students, and mental health initiatives like JED. She's passionate about yoga, art, and literature!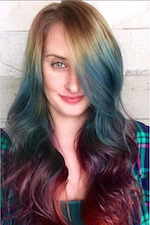 Jacquelyn (Jackie) Leslie
Psychology
Jacquelyn (Jackie) Leslie is a transplant from Los Angeles, California. She worked in various fields before finding her niche within Easterseals Southern California's Autism Department. She then decided to return to school in hopes of pursuing a more hands-on career within the field. After moving to NYC she attended BMCC for one year. When she heard about the GS program, she jumped at the opportunity. She is currently a psychology major planning on attending grad school to become an Occupational Therapist. She is always available to recommend a good book and good laugh, whether it is with her or at her expense.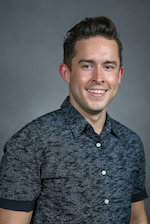 Nic Rockwood
Computer Science
Nic was raised in Mt. Dora Florida and initially pursued a theatre degree from The College of William and Mary following high school. However, after two years, he moved to New York City and has been here ever since. Before coming to Columbia, Nic was the founder of the Lovesick Production Company, producing projects across a myriad of genres with a focus on developing works by underrepresented artists. Now pursuing a degree in Computer Science, Nic has also been involved with GSSC, Design @ Columbia, GS Alliance, and the Recovery Coalition. In his free time, he enjoys going to the theatre, memes, and scouring NYC for new restaurants.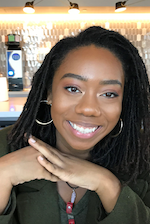 Lexi Tillman
Creative Writing
Lexi was raised in Atlanta where she studied at community college while working full time in retail management. While in community college she studied psychology but decided to pursue a career in storytelling once she reached GS where she now studies Creative Writing. She is also an avid reader and movie watcher, whose hobbies include brunching and astrology
Je Seung (Jason) You
Computer Science/Mathematics 
Jason was born and raised in Seoul, South Korea. Before he started his GS journey, he worked for his social enterprise startup in education few years, and then he served two years for the Second Infantry Division of the United States Army as the part of Korean Augmentation of the United States Army Program. He is a member of the Class of 2021 majoring in computer science with a mathematics concentration. Along with peer advising, he is serving as Martial Arts Representative of Columbia Club Sports Governing Board.