GS Celebrates the Class of 2019 at Class Day Ceremony
The School of General Studies celebrated the Class of 2019 at the GS Class Day ceremony on Monday, May 20.
May 23, 2019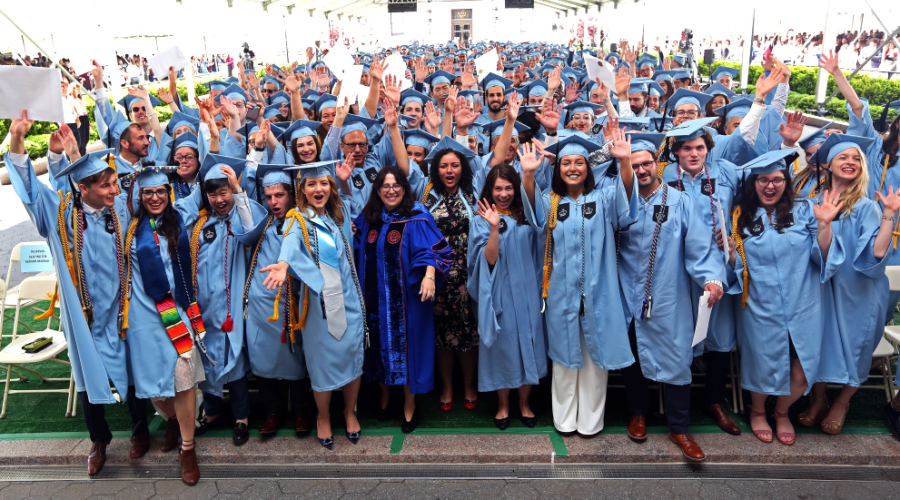 The School of General Studies celebrated the Class of 2019 at the GS Class Day ceremony on Monday, May 20. The ninth Dean of the School of General Studies Lisa Rosen-Metsch welcomed more than 1,800 guests, who joined faculty and administrators in recognizing the accomplishments of the 650 members of the graduating class, 137 of whom were enrolled in GS's dual or joint degree programs, and 104 of whom are U.S. military veterans, more than all other Ivy League university graduates combined. 
Dean Rosen-Metsch began the ceremony by welcoming University President Lee C. Bollinger, keynote speaker Sara Ziff '11, and distinguished faculty and guests. She also recognized the family of graduate Steven Cohen, whose brother David Cohen graduated from GS in 2018, and whose great-grandfather Samuel Pasner graduated Phi Beta Kappa from Columbia College 100 years earlier in 1919.
President Bollinger spoke next, expressing gratitude for the GS student body and emphasizing the value of the rich life experiences they bring to the Columbia undergraduate classroom.
"We believe brilliance and a desire to learn can happen at any time in life, not just when you are 17 or 18, and we want to bring those people in and you are those people. You have enriched this institution beyond anything you may have imagined," President Bollinger said.
You have enriched this institution beyond anything you may have imagined.
Dean Rosen-Metsch next welcomed keynote speaker Sara Ziff, American fashion model, filmmaker, and labor activist. After graduating magna cum laude from GS in 2011 with a degree in political science, she collaborated with researchers at Harvard to conduct the largest study to date on the prevalence of eating disorders within the modeling industry, and worked with lawmakers to champion the Child Model Act in New York and the Talent Protections Act in California.
Ziff described her concerns about the transition to leading a double life as both a student and model, worried that people might take her less seriously, or that she would not be able to get back into a student mindset. But those concerns were soon replaced by an innate intellectual curiosity, nurtured by professors like Dorian Warren, who taught her the history of the labor movement and community organizing, which she was able to apply to her life outside of the Columbia campus.
"For me, by interweaving my working life with my academic pursuits, each informing the other, I straddled two disparate worlds. It allowed me to look beyond the façade of an industry that has historically invited only superficial criticism—and to advance the rights of a vulnerable workforce. That's why GS holds a very special place in my heart," Ziff said.
She encouraged the Class of 2019 to persevere through the challenges that await them, citing not only her own experiences in higher education, but those of her grandmother, who in 1938 was the among the first women to earn a PhD in physiology, defying the biases that made it difficult for women to succeed in the field at that time.
"So many of us look for approval from the outside—this is not just a model speaking. There's a societal pressure to appear that you have everything figured out," Ziff said. "If you want to get up and keep going, being in service to something bigger than yourself helps. And so does taking to heart what Frances Perkins said: 'Contentment tends to breed laxity, but a healthy discontent keeps us alert to the changing needs of our time.' I hope your healthy discontent will help you find your way—as it did for me and my Grandma before. I hope you will remember where you came from, reclaim it, and build anew. And I hope you become a fearless troublemaker. It's contagious—and so will be the joy you find—when your work truly reflects who you are."
Class of 2019 Salutatorian, Matthew Hess, spoke following Ziff's remarks. A first-generation college student and Marine Corps veteran, Hess began by welcoming his fellow classmates and describing the unique perspective gained by pursuing an Ivy League education as a nontraditional student.
"We know better than most that life circumstances can constrain the opportunities of even the most intelligent, hard-working people. As nontraditional students who beat the odds to get here, we know how many fully capable people get left behind, and with the opportunities a Columbia education offers us, we will also have the capability to make this a more equal world," Hess said.
A member of the GS Honor Society and Phi Beta Kappa, Hess graduates summa cum laude with a degree in Middle Eastern studies.
"For me and for many of you, GS was a second chance. And for many of us, this second chance is much better than the first," said Hess.
Upon the presentation of the 2019 degree candidates by Dean of Students Ivonne Rojas, Dean Rosen-Metch introduced Class of 2019 Valedictorian Brittany Summer.
Summer, a former professional ballerina, spoke to her experience redefining her identity from dancer to student, and finding a supportive community of likeminded individuals at GS.
"I've learned that despite what we may write on a piece of paper, we don't just change our identities as we move through the different phases of our life. Instead, we simply layer them on, piecing together an elaborate, colorful quilt of our lives. Sometimes the pieces may not seem to perfectly match, but I think that's because we can't yet see the final product. I am so thankful to be part of a school where our beautifully-patterned quilts are embraced and valued," Summer said.
A member of the GS Honor Society, Phi Beta Kappa, and Psi Chi, the international honor society in psychology, Summer graduates summa cum laude with a degree in psychology.
As we triumphantly mark the end of our time here on this campus, I put forth a final question: What if this is just the beginning?
"As we start new chapters, let's proudly weave our identities as GS students into our lives. Let's be willing to say that whatever we end up doing, we are always going to do it on purpose. Let's not forget that our past experiences are our best assets in conquering our future. And perhaps most importantly, let's always be willing to take the bet on ourselves and never stop asking 'What if?' 'What if I can do more?' 'What if I can make a difference?' As I look out at our graduating class today I am inspired beyond measure at what we have achieved, both as individuals and as a class. As we triumphantly mark the end of our time here on this campus, I put forth a final question: "What if this is just the beginning?"
This year's graduates join a variety of industries, including the arts, finance, law, technology, and health care, where they will work for organizations such as McKinsey & Company, J.P. Morgan, Google, IBM, Amazon, and Teach for America. Many will pursue advanced degrees at institutions including Harvard, Yale, Columbia, Brown, Sciences Po, Oxford, and the London School of Economics.
Overview of the Class of 2019
Number of Graduates: 650
Average age: 29
Youngest graduate: 19
Oldest graduate: 72
Graduates hail from 37 states and 54 countries
New Americans or international students: 31%
GS Honor Society members: 163
Phi Beta Kappa Society inductees: 49
Joint- and dual-degree program graduates: 137
Military veterans: 104
Pell Grant recipients: 328
Meet the Columbia GS Class of 2019
Angelique (Angel) Dudley was born in Cheverly, Maryland and raised in Deltona, Florida and knew from a young age that she wanted to pursue a career in the performing arts. As Deltona High School's Freshman Homecoming Lady, Senior Class President, and Deltona High Hall of Fame Inductee, as well as 2003 National Dance Champion, Angel has always been deeply involved with her school community.
At the age of 17, Angel was admitted into The American Musical and Dramatic Academy (AMDA) in New York City. It was there that she found her passion in the exploration of the human experience through acting and devoted herself to learning the craft. After transferring to the Los Angeles campus and graduating in 2007, she danced as a Los Angeles Laker Girl from 2007 to 2011, representing the Los Angeles Lakers organization during two championships. She was a magician's assistant for magician extraordinaire, Greg Wilson, performing for Saudi Arabian royalty, as well as winning Penn & Teller's hit TV show, FOOL US.
Having danced for over 20+ years, Angel has had the opportunity to dance for artists such as Rihanna, Kanye West, Miley Cyrus, and many more. Switching her attention to acting, she has been seen on The Bold and the Beautiful and Disney's A.N.T Farm. Although she had a success in the entertainment business, Angel found she had little time to focus on her education, but knew a college degree was something that she truly wanted to achieve.
In the winter of 2015 she enrolled at Santa Monic College, and in 2017, with a 4.0 GPA, was admitted into Columbia University's School of General Studies. Angel has performed in, as well as stage managed, several of Columbia and Barnard's departmental productions. A volunteer with NYCares, Angel is dedicated to addressing hunger and food insecurity in the homeless community. She also has lifelong goals to dedicate her time to The Prison Project—a transformative program that aims to rehabilitate inmates through education, wellness, counseling, employment and a means of reinstatement back in society. A member of the GS Honor Society, Angel has been named to the Dean's List every semester and is a recipient of the Ward H. Dennis scholarship and the Myron A. Minskoff scholarship for Performing Artists. She graduates with a bachelor's degree in drama and theatre arts, with a concentration in acting and will move back to Los Angeles to pursue television and film upon graduating.
Growing up in a recovering post-communist society in Lithuania, Justinas has been exposed to a variety of conflicting worldviews from a young age. After spending 2 months in a religious community in Belgium at the age of 16, he switched his highschool curriculum from math and sciences to humanities and thus decided that Sciences Po would be the best way to gain knowledge in a wide range of subjects from philosophy to law and economics. Sciences Po helped Justinas further develop his interest in human behavior through courses in political sociology and behavioral economics.
After finishing the first year among the top 2% of all students, he learned about the Dual BA program with Columbia and decided to apply for this unthinkable opportunity. An acceptance letter a few months before the transfer date was just the beginning of an extremely challenging yet rewarding journey. In order to make this dream come true, Justinas crowdfunded over $15,000 with the help of family, friends, and the Lithuanian community back home as well as in France and the US. His story has appeared multiple times on Lithuanian news and was featured among the 'trending campaigns' on the first page of GoFundMe website.
At Columbia, Justinas decided to narrow down his focus to economics and took advanced classes in statistics and math. He worked as a teaching assistant for intermediate courses in economics for three semesters and was an Economics and Statistics Tutor at the GS Academic Resource Center for four. He also assisted multiple faculty members with their research and even helped edit an intro level statistics textbook. Justinas wrote a senior thesis on choices under risk and designed a unique experiment to test individual preferences. He was awarded the Romine prize for the best thesis in the Economics department as well as received GS Dean's Prize in Economics for academic excellence and Service award for commitment to the GS community.
In his senior year, Justinas joined the Cognition&Decision lab as the only undergraduate member among doctoral students and renowned professors in behavioral economics. Besides his main academic interests, Justinas was a volunteer teacher at the Lithuanian Saturday School in Brooklyn and also sang with Columbia-Barnard Chamber Choir for all three years.
Justinas graduated Summa Cum Laude, Phi Beta Kappa with a bachelor's degree in Economics from Columbia University and Political Science from Sciences Po. He will work for an economic consulting firm on Antitrust and Competition cases in New York and then pursue a graduate degree.
The salutatorian of the Class of 2019 is Matthew Hess, a Marine Corps veteran and first-generation college student who was raised in Ogden, Utah. Growing up in a low-income family, financial struggles were constant. He began working in high school and nearly dropped out during his senior year, before being transferred to an alternative high school due to poor performance and attendance. In 2009, he enlisted in the Marine Corps, and after completing a tour in Okinawa, volunteered for the Marine Security Guard (MSG) Program. He was named salutatorian of his MSG school class, and worked at embassies in New Delhi, Beijing, and Cairo.
Matthew repeatedly demonstrated his proficiency while in the Corps. In 2013, while stationed in Beijing, he was named Marine Security Guard of the Quarter by the State Department's Regional Security Officer of China in recognition of his leadership skills. In 2014, Matthew was responsible for several aspects of the Marine Detachment's operations in New Delhi, including organizing and tracking all training, and planning the Marine Corps Birthday Ball.
At GS, Matthew has served on the Veteran Advisory Board and volunteered with the Veteran Mentor Program since 2016, where he has been instrumental in developing the Program as a peer-to-peer support system that values inclusive community building. He was awarded a Presidential Global Fellowship to study abroad in Amman, Jordan and a Gilman Scholarship that allowed him to intern with the Department of State at the U.S. Embassy in Muscat, Oman. This spring, Matthew will receive a Service Award from GS, recognizing his dedication to service and leadership within the School of General Studies and Columbia University community.
Matthew was named to the dean's list every semester, and was inducted into the GS Honor Society and Phi Beta Kappa. He graduates summa cum laude with a degree in Middle Eastern studies. After graduation, Matthew will marry his fiancée, Gayatri, and move to the Washington, D.C. area to gain some work experience before pursuing a master's degree in international relations or a related field.
Yasmeen Ibrahim was born and raised in Cairo, Egypt, before moving to the United States at the age of 10. Struggling with adjusting to life in the states, Yasmeen quickly became disinterested in her studies, which caused her to barely graduate from high school. She accepted a part-time job at a department store beauty counter, where she quickly fell in love with makeup artistry and styling. Shortly after, Yasmeen began a career in the beauty and fashion industries at the age of 18, where she worked as a makeup artist, hair stylist, and wardrobe stylist with some of the most influential figures in the world, including Bill Gates, Speaker Nancy Pelosi, Dr. Deepak Chopra, and the legendary Tony Bennett. Yasmeen also played a key role in the 2012 presidential election, and along with a talented team of industry professionals, won an Emmy Award for her work during the election's televised coverage.

Her time as an artist and stylist with such brilliant minds led her on the journey to discover and fulfill her own intellectual curiosity, and after a decade in the beauty industry, Yasmeen decided to enroll at Northern Virginia Community College, where she excelled academically while serving as president of the Non-Traditional Student Organization. Shortly after, Yasmeen was encouraged to apply to GS by a friend in the program, and joined as a Psychology and Business Management scholar in 2016.

Over the past three years at Columbia, Yasmeen has worked as a Resident Advisor with GS Student Life, Research Assistant at Columbia Business School, and was appointed as Chief of Campus Life with the student council. Her academic and leadership excellence at Columbia have granted her induction in the GS Honor Society, the Olga Knoepke Scholarship Award, and two Columbia University GS Leadership and Service Awards. Yasmeen graduates magna cum laude, and was selected to co-lead the 2019 GS Class Day procession as Head Senior Marshall. After graduation, Yasmeen will return to Northern Virginia, where she accepted a position as a management consulting analyst with Accenture.
 
Taylor Miller '19 grew up in West Parishville in Upstate New York. After disappointing college admission results during his senior year of High School, Miller decided to join the Navy to forge himself a new path, and to uphold a family tradition. Influenced by his aunt who worked in the FBI, Miller decided to join the Navy as an Intelligence Specialist. While serving in the Navy, he served in four different countries and visited 44 countries over his time in Navy, and through personal travel. One of the places he visited was Cape Verde, which he traveled to with the US Coast Guard and the British and Portuguese navies. During the trip, Taylor attempt to learn the basics of Portuguese in vain.
When Taylor decided to get out of the Navy, his leadership encouraged him to apply to the School of General Studies at Columbia University. Although he had never considered the possibility of ever being able to attend an Ivy League, due to growing up in a small town, Taylor took the advice and decided to apply.
"I still remember the day I was accepted vividly. I was staying in a hotel in Bahrain on November 16th, 2015, a few days before flying back to the United States. I remember waking up at 6am and checking my email and getting my acceptance letter. After calling my mother while tearing up,  I went straight to work and shared the great news. Everyone at my command was so proud of me."
Once he arrived at Columbia, Taylor decided to polish his language skills and studied Italian and Spanish for a few semesters. Last year, during a visit to Brazil, other than having enjoyed his time there, Taylor realized the important role Brazil plays on the world stage. Upon his return to Columbia, he decided it was finally time for him to take on Portuguese.
"GS was great for me because it allowed me to explore many different languages before arriving at a language that really fit my personal and professional interests."
After consulting with GS fellowship adviser Glenn Novarr, Taylor decided to apply for the Critical Language Scholarship and for a Fulbright. Recently, Taylor was accepted into both programs. Thus, he will be heading to Brazil this summer to partake in an intensive Portuguese language course, and after a short break back in the United States, will return there for 9 months as an English Teaching Assistant.
Eight years ago, Randall (Blaine) Morris left her BFA in musical theater at Elon University when her summer job as a teen writing advisor on MTV Skins turned into a recurring acting role.  She spent the next few years acting on indie films, television series including Master of None and The Following, and national commercials such as Verizon.
In addition to working as a professional actor, she received her Associates in Theater from Hudson County Community College and learned about GS after acting in a musical at Columbia.  Blaine joined GS in the fall of 2016 and immediately sought out the filmmaking community. She joined Columbia University Sketch Show as a director and editor with her videos garnering over 14,000 views.  She was a member of the Ferris Reel Film Society, helping curate and coordinate free screenings for the campus community. Blaine was also in the Production and Interchapter chair for DKA Professional Cinematic Society, coordinating productions, evaluating pitches, and allocating a $6000 budget for student member films.
Blaine directed, wrote, edited, and produced 16 films during her time at GS. Blaine's first film was featured in the Undergraduate Film Festival and her next project, Walk of Fame, a semi-autobiographical directorial debut short film will be premiering this May at the NY Shorts International Film Festival.
Beyond directing, Blaine's interest in writing for television blossomed.  She attended the MFA summer TV writing intensive where a pilot she wrote was chosen to be part of NBCUniversal and the National Hispanic Foundation for the Arts Pitch NY, which gave her the opportunity to pitch her television show to industry professionals.  In addition to receiving a scholarship as an Emerging Content Creator to NALIP Media Summit, she also interned at Quebrada Entertainment and Assemble Media.
Blaine graduates Magna Cum Laude with a BA in Film and Media Studies having spent five semesters on the Dean's List. After graduation, Blaine will attend University of Southern California for a MFA in Film and TV Production. She was awarded the George Lucas Scholarship, which seeks to support the perspectives of artists from communities that are largely overlooked and promote fair representation of minorities in the entertainment industry. Blaine looks forward to using her voice to create bold female-driven Latinx stories that can bring about meaningful positive social change.
"When I'm not making my next film, I'm probably in a jungle somewhere in the world having solo backpacked to 19 countries in Central America, Europe, and Asia." – Blaine Morris
Rubén Darío Ordoñez-Parra was born in the rural outskirts of Cali, Colombia. He and his parents immigrated to the United States in 1998. He has lived in Jersey City, NJ for the past 20 years. In the fall of his senior year of high school, Ordonez enlisted into the United States Marine Corps and left for Marine Corps Recruit Depot in Parris Island, SC.
Rubén graduated boot camp in 2014 and attended Marine Combat Training at Camp Geiger, NC. Then, he attended Military Occupational Specialty School at the Naval Air Station Pensacola and Marine Corps Base Camp Pendleton. Rubén earned a NROTC Scholarship to earn a commission as a Marine Corps Officer and shortly after, he enrolled at GS,
For the past three years, Rubén has been an active member of the Columbia community. He has been a New Student Orientation Leader for four consecutive semesters, a member of the Student Organization of Latinxs as both the Events Chair and the Multicultural and Greek Life chair, and has served in his NROTC unit as the Battalion Logistics Officer, Administrative Officer, and a Company Commander. Rubén hopes to earn a MOS as either an Armor Officer or Artillery Officer in the United States Marine Corps and has plans to pursue a Ph.D. and a professorship.
Rubén is graduating with a B.A. in History. As a newly appointed Second Lieutenant in the Marines, Rubén will proceed to The Basic School at Marine Corps Base.
After separating from the U.S. Air Force and moving back to New York City, Donita Session found herself needing housing and employment assistance. After being referred to Easter Seals NY, a program that helps veterans find employment and apply for veteran's benefits, Donita was hired as a case manager. This enabled her to experience first-hand how laws and policies make it difficult to serve those who are in need of help.
Determined to continue serving and supporting her community, Donita began working full-time and attending Hostos Community College as a Public Policy and Administration major. She graduated with honors and earned the Gold Award for Public Administration as well as being inducted into Phi Theta Kappa International Honor Society and into the Veterans in Global Leadership Fellowship (VGL). With help from the Warrior-Scholar Project, Donita applied and was admitted into the School of General Studies.
At Columbia, Donita was involved with many clubs and organizations. She served as the Treasurer of the Students of Color Alliance (SOCA), as a chairperson for the Columbia University Model Congress, as a constituent of the Black Student Organization (BSO), and found a new passion for theater as an actor in the Black Theater Ensemble (BTE). Her passion for improving the lives of veterans led her to major in Political Science.
Donita is currently a Job Developer for homeless veterans in New York City and serves as an Executive Board member of Even Me, a non-profit organization that assists young people that are aging out of foster care in their transition to independent adulthood. Donita plans to apply to law school next year to strengthen her ability to assist her community fully.  
"It is my belief that the veterans that return home and are capable, have a duty to support their fellow veterans who are unable to support themselves." – Donita Session
The valedictorian of the Class of 2019 is Brittany Summer. Brittany grew up in Gastonia, NC, and from an early age fell in love with dancing. She attended high school at the University of North Carolina School of the Arts, and after graduating, joined the Boston Ballet as a member of the corps de ballet. During her more than nine years in Boston, she had the opportunity to dance on international stages in London, Spain, and Finland, and on acclaimed stages around the U.S. including the Boston Opera House, the John F. Kennedy Center in Washington, D.C., and the David H. Koch Theatre in New York City. On the Boston Ballet's 50th anniversary, she performed a leading role in front of 50,000 people at Boston Common, which she describes as a career highlight.
Outside of dance, Brittany kept busy working with the Boston Ballet's Education and Community Initiatives division on programs seeking to bring empowering, high-quality arts education and exposure to diverse populations within and around the Boston community. She also began taking classes at Northeastern University while continuing to perform.
At GS, Brittany has been an involved student, serving on the membership committee of Columbia Women in Business, as well as volunteering for the GS Mentor Program. Outside of her activities at Columbia, she worked as an intern at the private equity firm KKR, and most recently with Heidrick & Struggles, an executive search and leadership consulting firm.
Brittany was named to the dean's list every semester, and was inducted into the GS Honor Society, Phi Beta Kappa, and Psi Chi, the international honor society in psychology. She graduates summa cum laude with a degree in psychology. Her main interest lies in organizational psychology and leadership, and she hopes to be able to make workplaces better environments for the individuals that inhabit them. After graduation, Brittany will join Heidrick & Struggles as an associate in their artificial intelligence and data & analytics practice.
Yen Ba Vu was born and raised in Hanoi, Vietnam. An alumna of the French lycée in Hanoi, growing up in two cultures not only taught her a new language, but also an aptitude for adapting to different customs. She began to nurture an interest for the social sciences and the humanities as a lens to understand different societies in the world.
At 18, Yen Ba began college in the Dual BA Program Between Columbia University and Sciences Po—an experience that allowed her not only to pursue her academic interests in the classroom, but also to learn through real-life experiences in different cities. During her two years in Le Havre, France, Yen Ba concentrated in law and finished her time at Sciences Po with summa cum laude honors. At Columbia, as a GS student, she majored in history and undertook a senior thesis on the end of the colonial era in the Mekong Delta, a project that enabled her to reflect on questions of belonging and borders that interest her, as someone who drifts between belongings and borders herself.
Seeking to translate her questions in the classroom into concrete actions, Yen Ba will be starting at Harvard Law School in fall 2020, with the hopes of effecting change through a legal career. In the meantime, she will undertake a gap year when she plans to gain professional experience, improve her Mandarin Chinese, and make substantial headway on her to-read list.
When Annie Whitney of Charlotte, NC, discovered the Dual BA Program between SciencesPo and Columbia University, she knew it was exactly the kind of adventure and non-traditional college experience she was looking for. The daughter of a mother who was born in Cairo and a father who served with the US Army in Iraq and Afghanistan, she applied to the Menton campus for its academic focus on the Middle East and Mediterranean so she could learn more about a part of the world that was important to her family. At SciencesPo, she served as Student Council Treasurer, co-founded the campus yearbook, and received grants to conduct research in Istanbul, Paris, and Marseille.

During Annie's time in Menton, thousands of asylum seekers were passing through Menton, a small town on the French-Italian border. Annie began to volunteer with the Red Cross at a local migrant camp and, enrolled in SciencesPo's law specialization, developed a keen interest in immigration law. Following her time at SciencesPo, Annie deferred her return to Columbia to intern at the European Parliament in Brussels and with USAID in Washington, study Arabic in Cairo, and volunteered with refugee support organizations in Greece and Egypt.
At Columbia, she worked as a tour guide for the School of General Studies, served as a GS student representative to the Joint Committee on Instruction, received the Department of Education's Foreign Language and Area Studies Scholarship for Arabic language study, and travelled to Tunisia as a Kraft Global Fellow. Annie will graduate Summa Cum Laude and Phi Beta Kappa with a degree in Human Rights. After graduation, she will attend Harvard Law School following a deferral period during which she hopes to gain experience in the non-profit sector and continue her studies of Arabic, French, and Spanish.