GS Alumni Pursue Careers as Nurse Practitioners, Helping Address Pending Physician Shortage in U.S.
As an increasing number of medical doctors turn toward specialization and away from general care, the U.S. faces a pending shortage of physicians. Three GS students found friendship in a shared goal of pursuing careers in healthcare, and are now enrolled in programs to become nurse practitioners during a time when their services are needed more than ever.
April 17, 2020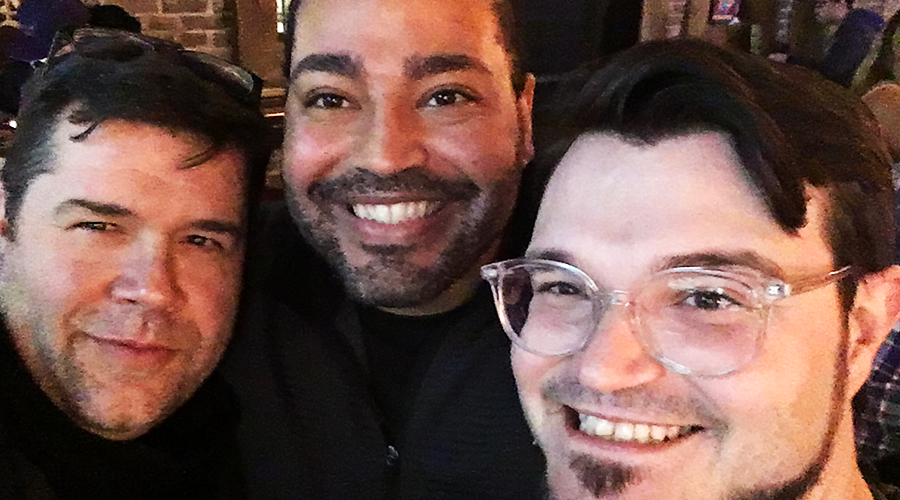 The United States is facing a pending shortage of more than 100,000 physicians by 2032* as more and more medical doctors turn toward specializations in their field and away from general care.
Nurse practitioners—graduate-level trained, advanced practice registered nurses who work closely with patients to develop holistic approaches for primary, acute, chronic, and specialty care—are ideally trained to fill this gap for a growing and aging population in the U.S. In fact, employment of well-prepared nursing specialists—including nurse practitioners—will expand by an incredible 26 percent by 2028**.
At the Columbia University School of General Studies, three people from diverse backgrounds found friendship through their shared dreams of helping the world find greater health and wellness as nurse practitioners.
Nurse practitioners are part of a forward-thinking model of care that celebrates your differences, allowing you to be deeply engaged with your patients and their health and wellness.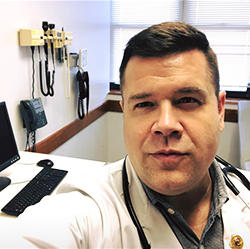 Jeffrey Scott Bailey was an established and successful actor in Atlanta, but he could never quite shake the idea that he'd always wanted to become a doctor. However, it had been years since earning his high school diploma, and he had only a few undergraduate classes under his belt.
"I was in my 40s, and I boldly marched into the admissions office at the Emory School of Medicine to state my intentions to enroll," Bailey remembers, laughing. "Well, I realized quickly that I needed to make quite a few more steps in my journey to make that happen."
Bailey began classes in an allied health program at the University of Georgia, graduating at the top of class and beginning work as a second set of hands in major trauma surgery right away.
Bailey was determined to go to medical school, but his plans changed when his mother's cancer became terminal and he moved back to Washington, D.C. to be with her. One day at the hospital, a nurse came up to him with an interesting idea.
"She said, 'I know you want to be a doctor, but caring for patients seems to be your thing. Have you ever heard of a nurse practitioner?'," recalls Bailey. "I shadowed an NP hospitalist for a day soon thereafter. And then I requested another day, and then another. I was hooked."
After moving to New York upon the passing of his mother, Bailey visited Columbia's admissions office and met the director, telling him that Columbia was only school he wanted to attend. He went on to enroll at GS, and graduated in 2018 with a BA in evolutionary biology of the human species and biological sciences.
Eventually, Bailey was accepted not only into Columbia's nursing master's program, but also the Doctor of Nursing Practice program. He is currently the Bobbie Berkowitz Scholar in Nursing and will graduate with his DPN in 2021.
Bailey works nearly full time as a medical triage nurse at the NYC Administration for Children's Services and hopes to become an NP hospitalist and observationist in a small town, using his education and knowledge of cutting-edge technology to care for the disenfranchised.
While certainly not new to the medical field, the responsibilities of the nurse practitioner are somewhat unknown, and—some would say—undervalued.
"The MD is one way to enter the medical field and become a doctor, sure—but it's not the only one," says Bailey. "NPs are part of a forward-thinking model of care that celebrates your differences, allowing you to be deeply engaged with your patients and their health and wellness."
An Early Passion Becomes a Lifelong Career
Jonathan Harper is one student who had his eye on the field practically from the start—he became a licensed practical nurse (LPN) almost right out of high school. After several years of working, he decided to go back to school; like many students with medical aspirations, he originally planned to pursue an MD.
"I got a biology degree from Seattle Central College and then transferred to GS," Harper says. "GS just felt right for me, as a person returning to school in my late 20s after starting a career. I wanted a challenging and rigorous education, and GS had the most integration with the main university of all the schools I considered."
Once Harper began taking his premedical courses, he realized how many different options he had to join health care at a high level. He knew he wanted to deal with patients one-on-one, and he wanted to be able to launch his career faster than it would have taken him to earn an MD, so he switched gears to pursue a career as an NP.
I learned about the nurse practitioner program while at GS—providing holistic care and treating the person rather than just the disease—and I knew it was the choice for me.
After earning his BA in evolutionary biology from Columbia in 2018—he and Bailey graduated together—Harper is now pursuing a Master of Science in Nursing (MSN) at Yale, specializing in adult gerontology. He is requesting clinical placements in rural small towns, VA hospitals, or on Native American reservations to gain experience providing care to the underserved with limited resources.
From First Responder to NP
Michael Anthony Price is the third of the trio of friends-cum-nurse practitioners. A native of Jersey City, Price enrolled in college as a first-generation student out of high school, but ended up making a choice to financially support his family and put his dream of graduating college on the shelf.
"My grandmother passed away during my first year at that college, and I was at her bedside as much as possible," says Price. "I watched the way the nurses cared for her, medically and emotionally, and knew I wanted to fill that role someday."
Price became a first responder and started taking nursing classes at nearby Hudson County Community College, where a peer excitedly announced that she had been accepted to GS.
"I had no idea you could go from a community college to the Ivy League," Price exclaims. "My professors were rooting for me to go to medical school, but I learned about the NP program while at GS—providing holistic care and treating the person rather than just the disease—and I knew it was the choice for me."
Price and Bailey met during a public health class at Columbia—while Price was still finishing some prerequisites at HCCC and commuting to the Morningside Campus from Jersey City every day—and had long conversations about the kind of care they wanted to provide.
After graduating from GS with his bachelor's degree in ethnicity and race studies in the spring of 2018, Price moved on to an accelerated MSN program at Emory University. He recently completed his BSN and passed his boards, so he will work in critical care for a year and then return to complete his master's degree.
"Becoming an emergency room NP is my goal, largely because the most vulnerable populations—people living with addictions, the homeless, etc.—use the ER as their main source of medical treatment," says Price. "If I can use that pathway to get them into regular preventative care, they'll be healthier and improve their quality of life."
The Future of Care
All three men look back fondly on their time together at GS, as well as look toward tomorrow with great hope.
"We used to meet up after any of us sent in a grad school application or received a decision letter," remembers Bailey. "We'd go for a beer, and we'd celebrate every accomplishment and failure. Those guys will always be close to me—we supported each other as well as competed together. I have the most special place in my heart for them as colleagues and friends."
References
*Source: Association of American Medical Colleges
**Source: U.S. Bureau of Labor Statistics