GS Alumna Reflects on Determination to Pursue Her Degree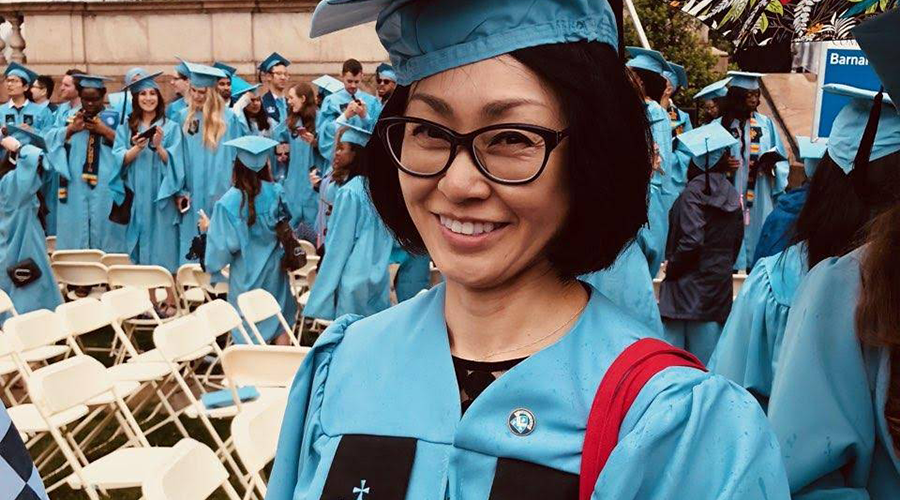 Mayumi Otsuki '18GS knew that it was time for a change. After sending her youngest child off to college, she was inspired to do the same for herself. 
"I was a stay-at-home mother for nearly 20 years, blindly following cultural expectations of women without any doubt of my role in my family," she recounted.
Otsuki spent the first 30 years of her life in Japan and it wasn't until after she moved to California that she realized her entire identity was wrapped up in being a wife and a mother. After enrolling at her local community college, she was tasked with writing an essay for her English class that focused on issues related to gender. The exercise opened her eyes to the potential she'd had all along. 
"I started consciously unfolding the layers of my preconceived expectations, and asked myself, honestly, what I wanted from my life," Otsuki said. 
Previously, she hadn't given much thought to what she would do after community college, but this experience led her to make a conscious effort to listen to her inner voice, which told her she could do even more.
My three years at Columbia GS did more to shape my perspective and lay a foundation to continuously grow as an individual than any other event in my life.
Otsuki realized that her dream was to transfer to a four-year university, and she happened to receive a timely email informing her of a Columbia GS information session taking place near her home. Despite Columbia's location on the other side of the country, her curiosity led her to the information session, which ultimately convinced her to apply. Shortly thereafter, she received a call informing her of her acceptance to GS. 
"I vividly remember when and where I listened to the phone message from the Office of Admissions," she recalled. "I was thrilled—but at the same time, I was stunned. How could I do this to my family?"
Despite those concerns, Otsuki's husband pushed her to follow her dreams, and with her family comfortably settled in California, she moved across the country alone. She then spent the next three years pursuing a degree in financial economics at GS while fighting through the loneliness of being nearly 3,000 miles away from her family. 
While she originally intended to pursue a career in finance after graduation, the economics classes she took opened her eyes to an unexpected passion: income inequality.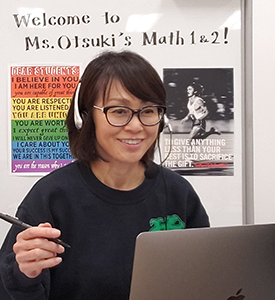 "International Trade, taught by Professor Juhasz, confirmed that a lack of resources forces people to stay in poverty and other unfortunate conditions—and that education is the ultimate tool to empower oneself and overcome such situations," she said. 
Thus, instead of following the finance path, she decided her next step after graduating from GS would be to work with Teach For America in an impoverished area of San Diego.
After graduating magna cum laude from GS in 2018, Otsuki returned to California, where she teaches math at a community high school in downtown San Diego. She is now using the passion that she gained from her own educational journey in hopes of inspiring her students, who face challenges she says she can't imagine, to do the same. 
"In the end, my GS experience was more than getting a college degree. For me, it was a rich life experience with abundant knowledge and pressures that encouraged me to think beyond my preconceived notions," Otsuki reflected. "Along with meeting my life partner and giving birth to my two children, my three years at Columbia GS did more to shape my perspective and lay a foundation to continuously grow as an individual than any other event in my life."