Class of 2019 Seniors Inducted into Phi Beta Kappa Honor Society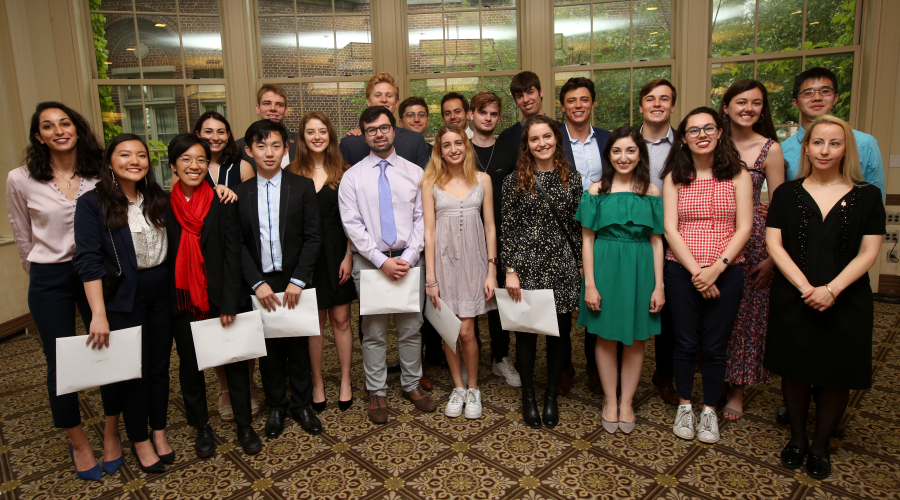 On Friday, May 17, the New York Delta Chapter of the Phi Beta Kappa Society initiated 49 GS students at its annual Induction Ceremony. Professor Patricia Lindemann, President of the Delta Chapter, began the ceremony, welcoming the candidates, faculty, families, and fellow new members of Phi Beta Kappa. Professor Lindemann succeeds Professor Deborah Mowshowitz, who stepped down from her role as Chapter President after 20 years of service.
"For 20 years, you have ushered in generations of GS Phi Beta Kappans, teaching each one the famous secret handshake—as we hope you will do again at the conclusion of today's ceremony. I know that when you appear at all GS events you are always wearing owl earrings in commemoration of GS's mascot. With that in mind, we would like to present you with an owl sculpture by GS's celebrated alumnus, Philip Erlich. Mr. Erlich has created a series of abstract owl sculptures, one of which is now a permanent installation in the GS student lounge. We would like you to have your own owl from this series, in recognition of your service to our GS Delta chapter of Phi Beta Kappa," said Dean Lisa Rosen-Metsch, Vice President of the Delta Chapter.
GS elects no more than 10 percent of its graduating class to Phi Beta Kappa. Students are selected on the basis of their character, integrity, and academic achievement. With grade point averages above 4.0, they are among the top in their class.
"The academic accomplishments of our Phi Beta Kappans are second to none, and yet many of these students have faced and surmounted extraordinary personal challenges. Remarkably, a number of these now highly-distinguished scholars were, at one point, high school or college dropouts. To get to where you see them today, some have had to overcome illness, poverty, or disability; they have had to contend with the health crises or deaths of loved ones, with bigotry and bias, with addiction—with forms of adversity that would have defeated less resilient individuals," said Victoria Rosner, Secretary of the Delta Chapter and Dean of Academic Affairs at GS.
"One of our graduates came to New York City from Brazil at age 16, signing with Ford working as a top runway model before enrolling in college. Another student has maintained an international modeling career while earning top grades as an economics major. Another taught Jewish history and culture, together with Israeli folk dancing, in Turkey."
Inductees included students from the Joint Degree Program with List College of the Jewish Theological Seminary, the Dual BA Program Between Columbia University and Sciences Po, and the Joint Bachelor's Degree Program between City University of Hong Kong and Columbia University, in addition to students who began their undergraduate educations in community college before transferring to Columbia.
Inductee Michelle Page received the Phi Beta Kappa Prize, which is awarded to the candidate who best represents the ideals of the society—intellectual integrity, tolerance for other views, and a broad range of academic interests. Page was honored for her extraordinary academic record and contributions to the GS community.
Upon pledging to "be true and faithful to Phi Beta Kappa, uphold its standards, obey its laws and seek to reflect credit upon [their] affiliation with this venerable fellowship of learners," the exceptional candidates became full-fledged members of Phi Beta Kappa. 
Class of 2019 Phi Beta Kappa Inductees
Or Daniel Aboodi
Lou Lea Abramowicz
Noam Alon
Marlene Arbess
Mary Sophia Bannister
Nathan Canadas
Jesse Leigh Chase-Lubitz
Rachel Hope Churchill
Sabrine Djemil
Jessica Doyle
Roysi Eskenazi
Megan Emily Evershed
Elizabeth Millis Faust
Laurin Jessica Gagne
Justinas Grigaitis
Xinyi Gu
Brett Logan Hardman
Matthew Jeffery Hess
Hardy Hewson
Shizuka Inoue
Shireen Jalali-Yazdi
Sharon Kavjian
Yona Aryeh Kornsgold
Wan Yii LeeCeline Lessard-Brandt
Dalton James Fischer Linnett
Miguel Andres Lopez
Nazira Benzi Lyrio
Pearl Jay Mutnick
Michelle Page
Xinghe Pan
Silia Polyzogopoulou
Gaspard Stanislas Rames
Sofia Page Riva
Zachary Andre Rotman
Elisa Ellen Sisto
Katarina Skoko
Alan Matthew Spadone
Marthinus Christo Strydom
Brittany Marie Summer
Sebastian Rafael Torero
Yen Ba Vu
Bingchen Wang
Anne Stone Whitney
Marina Sophia Valentin Wilbraham
Peilin Wu
Yuwei Zhang
Ryan Zohar
---
Founded in 1776, Phi Beta Kappa is the nation's oldest academic honor society, and its initials represent the society's motto: "love of learning is the guide of life." Roughly 10 percent of U.S. institutions of higher learning have Phi Beta Kappa chapters, and among those institutions, only about 10 percent of arts and sciences graduates are selected for membership, making it one of the highest academic honors for undergraduate students in the nation. Today, the Society has more than 500,000 living members.
To be inducted into the Phi Beta Kappa Society, students must be recommended by faculty who work closely with them and are members of the Phi Beta Kappa Society. Recommendations are based on the students' academic programs and their ability to support the society's ideals of academic, social, and community-based programs.