202 Students Inducted into GS Honor Society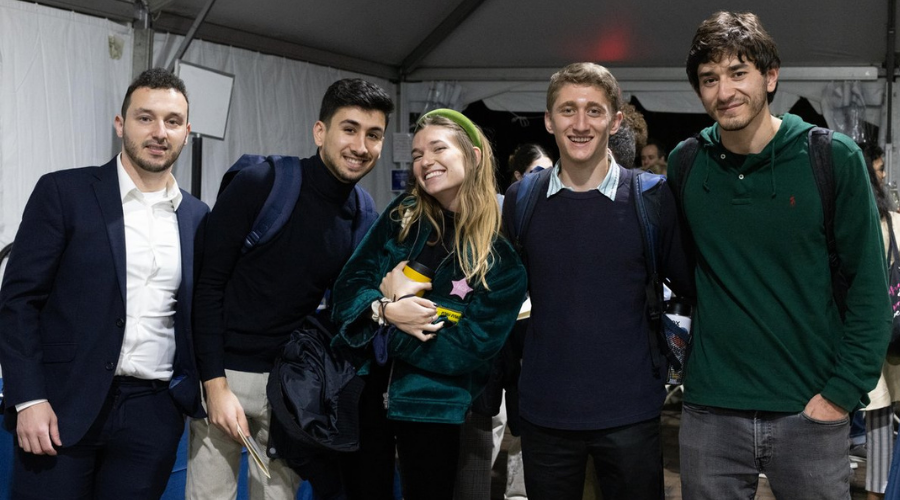 On Tuesday, November 9, faculty, staff, friends, and family gathered at Columbia University's Faculty House to celebrate the induction of a record 202 students into the School of General Studies Honor Society. The ceremony was followed by a reception on Ancell Plaza for inductees to mingle with their fellow GS Honor Society members, as well GS administrators and staff members.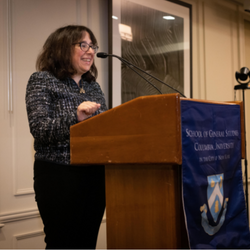 The GS Honor Society was created in 1997 to recognize the exceptional academic achievements of GS students who have earned a cumulative GPA of at least 3.8 in more than 30 points of academic coursework at Columbia.
Dean Lisa Rosen-Metsch welcomed the attendees with opening remarks, reflecting that, "the Honor Society is an opportunity for us to celebrate you and your pursuit of the intellectual life." Dean Rosen-Metsch went on to introduce the keynote speaker, Thomas R. Reardon, PhD '08GS, '13GSAS, '16GSAS. Dr. Reardon, a renowned computational neuroscience and CEO and cofounder of CTRL-labs, congratulated the students and emphasized the importance of their intellectual curiosity. "You have demonstrated curiosity, persistence, intellectual rigor, the rigor of inquiry, and genius, what President Bollinger refers to as the genius of General Studies," he said. "Now comes another responsibility that is implicit in this society, which is to lend your curiosity to others and to embrace it in others when it arrives on your doorstep," he continued.

Dr. Reardon's remarks were followed by the presentation of the new members by Victoria Rosner, Dean of Academic Affairs.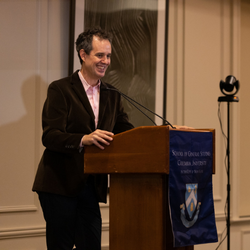 Dean Rosner remarked, "​The GS student body, as you know well, is like no other in the Ivy League. Our students come from all walks of life, all parts of the world, and together collectively body forth an extraordinary diversity and a robust academic community. The students we honor today do, however, have one crucial thing in common – their academic excellence.  This evening we will induct these students into the Columbia GS Honor Society and welcome them to participate in a wonderful and ever-changing GS tradition."

She added, "These students are not everyone's idea of 'typical American college students.' Many of them are international in their origins, and global in their outlook. They have a maturity derived from life experiences including military service, travel, parenthood (I should add that one of our inductees is expecting her first child this spring), career achievement, immigration, and artistic endeavor."

"Whatever their histories, we find these students now at the pinnacle of undergraduate academic success at Columbia. Every one of them has worked hard to earn a place here, and all share an ambition to make the most of their Columbia experience," she said.
Now comes another responsibility that is implicit in this society, which is to lend your curiosity to others and to embrace it in others when it arrives on your doorstep
Among those inducted this spring are 70 students enrolled in the School's dual-degree programs with List College of Jewish Theological Seminary, Sciences Po in France, City University of Hong Kong, and Trinity College Dublin, and students from countries all around the world, including Austria, Bulgaria, China, Ghana, Israel, and Peru. 19 US veterans and 21 students who served in the armed forces of other nations, 38 first-generation college students, and 59 students who began their studies at community college were also inducted.

Dean Rosner said, "Diversity, as you know, is the hallmark of the GS student – diversity of age, experience, gender and sexual identity, national and ethnic origins, and every other axis of human definition, and the students gathered here today embody that fact."

The chief aim of the GS Honor Society is to cultivate interaction among those committed to intellectual discovery and academic excellence. The only group of its kind at the University, the Society offers opportunities throughout the year for its student and alumni members to interact with one another, as well as with the faculty who enjoy working with such outstanding scholars.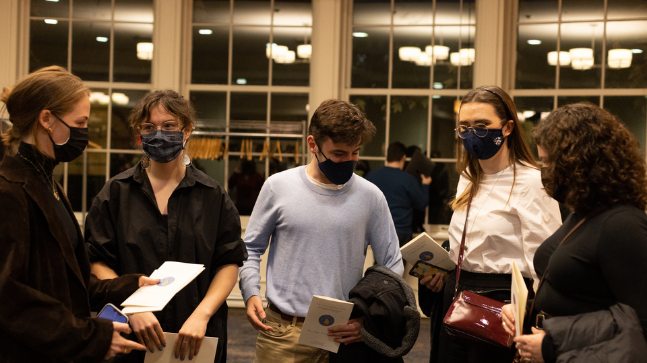 Inductees
Marissa Aaronson
Oluwabukola Abodunrin
Paula Angermair
Sofia Assab
Eden Astorino
Sejal Atluru
Rose Aydin
Maria Teresa Aymerich
Katherine Barr
Ana Barrera Cruz
Jacob Baumstein
Joshua Becktell
Yarden Ben Goya
Ali Benramdane
David Benson
Sylvester Benson
Rahil Bhatia
Katherine Bibilouri
Zuzanna Bijoch
Jonathan Bomberg
Constance Bonnin
Sydney Bowen
Jerome Brackins
Shelton Brister
Tony Britvec
Caitlin Buckley
Anna Buckley Thwaites
Alexandra Carraher-Kang
David Carter
Tsz Lam Chang
Jason Chen
Bowen Chen
Yiu Leung Cheng
Hailey Cherry
Natalie Cimino
Helena Clark
Tom Cohen
Kaeli Coleman
Anthony Costanzo
Shulamit Crevoshay
Ashley Cullina
Benjamin Dahan
Isaac Daly
Mirabelle de Ladoucette
Jessica De Rocco
Andreea Diaconu
Connor Diaz
Monna Dimitrova
Veena Dinavahi
May Dittel
Bianca Dominguez
Zoe Dressner
Uri Farkas
Terry Foley
Audrey Fouts
Anna Franco Solano
Myra Friedman
Emma Fromont
Daniel Fu He
Emmanuel Gacel
Tom Gafni
Michael Gilliam
Bettina Gleason
Megan Goldberg
Justin Gravlee
Trey Greenough
Alexandra Grounds
Melanie Grynholc
Jiang Guan
Daniel Guelen
Gordon Hanssen
Omri Harlap
Oliver Harris
Christina Harward
Dion Hazell
Samuel Hershgold
Claudia Hester
Dominique Hinestrosa
Brendan Hogan
Alexandra Holguin
Patrick Horan
Jiangtian Hou
Joy Hou
Virginia House
Michelle Hur
Noga Hurwitz
Alan Imar
Minori Ito
Ashvin Jagadeesan
Ryan Jarjoura
Leslie Johnson
Yin To Kan
Byeongmo Kang
Gabriel Karl
Ariel Katz
Mareike Carolin Keller
Lara Kemper
Quintus Kilbourn
Min Jee Kim
Rose Kim
Minjin Kim
Jeremy Kohler
Joshua Kolberg
Hannah Kunze
Brandon Lambert
Katrine Laukli
Brian Laurito
Paul Le Helloco
Jeongmin Lee
Yang Li
Christopher Liao
Jeffrey Liu
Jimena Lizier
Jane Loughman
Alston Macgill
Isabel Macgill
Kristen Magnatta
Elisabeth Malanga
Nathaniel Malone
Molly Martin
Andrea Marvin
Lorna McGonigal
Connor Metz
Ryan Milkman
Jordan Monaghan
Maria Jose Monzon
Seo Rin Moon
Jiyoon Moon
Brendan Moore
Emily Moser
Julia Faye Munoz
Umit Muradi
Alexia Nagayama
Emma Nakayoshi
Lance Nelson
Sungyeol Oh
Beatriz Oliveira
Esther Ollivier
Anna Orban
Sirena Orona
Hyun Park
Tiffany Peach
Daniel Perrotta
Kevin Petersen
Elizabeth Phillips
Bianca Picariello Signori
Jessica Pifer
Jonah Pitkowsky
Aaron Priven
Amber Ray
Eleanor Reich
Yarin Reindorp
Hunter Rhoades
Ekaterina Riabinkina
Tidora Rifai
Aviram Rispler
Antonio Rodriguez
Matthew Rogers
Gaspard Rougier
Sung Joon Ryoo
Garrett Sams
Colton Sears
Shiyang Shen
Trevor Sherif
Zohar Simler
Yael Simon
Katarzyna Skiba
Yueheng Song
Ziheng Song
Emily Spittle
Lianah Sta. Ana
Shizuku Sunagawa
Desean Taber
Vanya Tandon
Hanlin Tang
Jacqueline Taylor
Sacha Telfer
Breana Thomas
Clive Thompson
Inna Tintchev
Margaret Tompkins
Sofia Trujillo
Sarah Urban
Emma Urofsky
Andrey Uspenskiy
Lorelei Vaisse
Grace Wagner
Hannah Walsh
Shuohan Wang
Shin Hon Ryan Wee
Xiu Wen
Jia Jun Joel Wen
JongHyun Won
Patrick Chen-Ni Wu
Judy Wu
Agatha Wuh
Kaiwen Xue
Steven Yang
Kerem Yilmaz
Ryeogyeoung Yoon
You Zhou
Kayla Zhu
Minxi Zhu