Three GS Alumni Selected as 2021 Schwarzman Scholars
Earlier this month, three GS alumni were selected to join the highly-selective Schwarzman Scholars Class of 2021. Only around three percent of this year's applicants, which include students from 41 countries and 108 universities, were accepted to the graduate fellowship program.
Editor's note:
This article was updated in October 2020 to include the name of a Schwarzman Scholar who could not be named at the time of publication.
December 24, 2019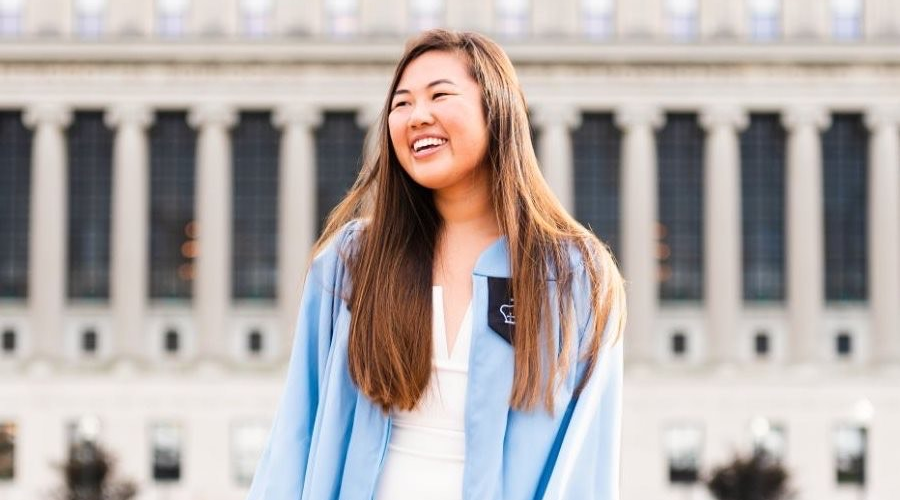 Scholars were selected through a rigorous and thorough application process designed to identify academic ability, as well as leadership potential and strength of character. More than 400 candidates were invited to interview in Beijing, London, New York, or Bangkok, where they went before panels composed of CEOs, government officials, university presidents, journalists, and non-profit executives, among others.
Mary Liu
Mary Liu, who majored in applied mathematics at GS, dedicated a year in service to rural communities in China and Thailand, volunteering as a community organizer, teacher, and website developer. During her time at GS, she was selected to participate in the Gilman Scholarship Program, which she describes as pivotal to her decision to apply to be a Schwarzman Scholar.
"Studying abroad in the United Kingdom while the country was in the process of negotiating its departure from the European Union was a fascinating glimpse into how interconnected the world is and solidified my aspiration of someday joining the United Nations. I am so excited to continue learning through exploration as a Schwarzman Scholar and I look forward to studying alongside ambitious young leaders from around the world," Liu said.
Liu, who previously completed internships at JP Morgan & Chase, the Columbia Data Science Institute, and The Earth Institute—and currently works in the Office of Congressman Ro Khanna (CA-17)—will focus her studies at Tsinghua University on methods to increase economic opportunity within rural communities.
Harold Agblonon
Harold Agblonon majored in economics and statistics at GS, and after graduation, went on to work as an investment banker in New York and Tokyo, where he witnessed the rapid development of the Asian economy.
"My interest in China grew during my undergraduate studies when I had the privilege to participate in the Columbia Global Scholars program, where I spent a summer in China conducting research on pathways to sustainable economic growth. I experienced first-hand the results of the socio-economic progress made by China over the past several decades, which sparked in me a quest to find a prescription for sustainable economic growth for my own continent, Africa. The Schwarzman Scholars Program came in at an opportune time for me given the increasingly investment-driven partnership between China and the African continent," Agblonon said.
Agblonon established the African Advancement Network, a nonprofit that provides professional and academic support to African students in the West, and is currently a consultant at Deloitte, where he advises Fortune 500 clients and is the skills lead for the Tri-State consultant community.
"One thing I hope to gain from this fellowship experience is a deeper understanding of China from a cultural, social economic, and political perspective in order to better inform my views on China-Africa relations. I ultimately intend to use this knowledge to help the African continent benefit more from their involvement with China, starting with my country, Benin," Agblonon said.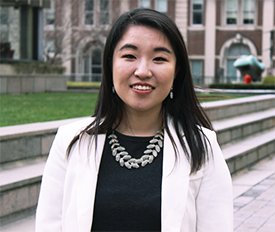 Irina Liu
Irina Liu is an alumna of the Dual BA Program Between Columbia University and Sciences Po, where she studied political science and environmental science, and worked as a research assistant at the Lamont-Doherty Earth Observatory. 
"The Dual BA Program was such an eye-opening experience. Learning about France in the classroom is really different compared to learning about France through first-hand experiences. Being able to discuss French, American, and global issues in our internationally-diverse Sciences Po classroom was extremely refreshing and challenged me to reflect on my personal assumptions, conclusions, and beliefs about the world. That is why I'm so excited for the Schwarzman Scholars Program, because I have the opportunity to gain a perspective that I would only be able to learn from living in Beijing," Liu said.
Liu is currently a fellow at the Science and Technology Policy Institute (STPI), where she supports the White House Office of Science and Technology Policy, serves as a lead on China-related science policy research, and co-founded a China discussion group.
At Tsinghua University, Liu hopes to gain a better understanding of the relationship between the central government and private actors in China, especially in regards to how national technology policy affects researchers and technology companies in China. 
"I'm excited to learn how new scientific discoveries and technologies affect Chinese citizens, especially as tech companies come under scrutiny in the United States. My broader goal is to better identify areas for collaboration in science and technology between the U.S. and China," Liu said.
About Schwarzman Scholars
Schwarzman Scholars was inspired by the Rhodes Scholarship and is designed to prepare future global leaders to meet the geopolitical challenges of the 21st century. The vision of Schwarzman Scholars is to bring together the world's best young minds to explore and understand the economic, political and cultural factors that have contributed to China's increasing importance as a global power, so that throughout their careers they can deepen understanding between China and the rest of the world across many different professional fields. Scholars chosen for this highly selective program have demonstrated exemplary leadership qualities and the potential to bridge and understand cultural and political differences.
---
To learn more about fellowship opportunities, GS students are encouraged to visit the Fellowships section of the website, and to reach out to the GS Fellowships Office and Undergraduate Research & Fellowships.