GS Welcomes Spring 2020 Incoming Students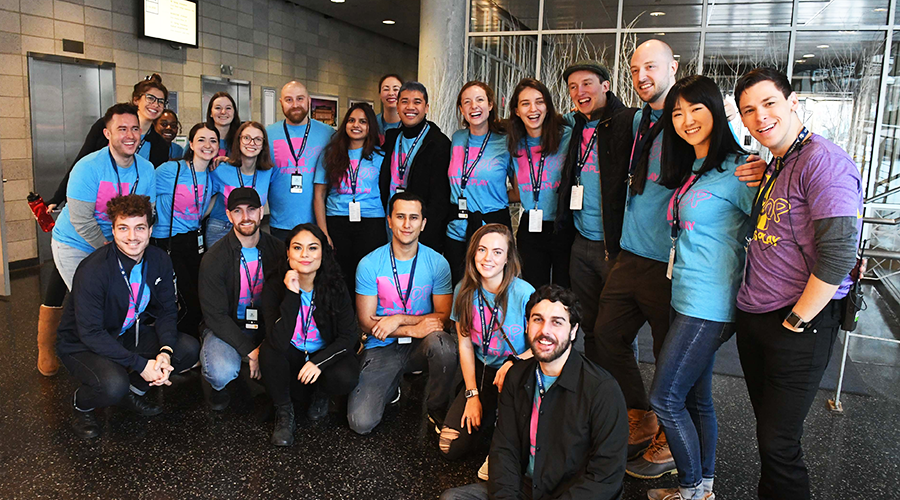 Earlier this week, more than 200 incoming GS undergraduate and Postbac Premed students, along with GS staff and Orientation Leaders, convened in Roone Arledge Auditorium in Lerner Hall to usher in the beginning of the spring semester and begin the week-long New Student Orientation Program (NSOP). NSOP is designed to introduce new students to campus, provide an overview of University policies, and facilitate socializing in small groups.
Beginnings do not always start at the beginning.
Lisa Rosen-Metsch, Dean of the School of General Studies, started by motivating the incoming students for the next step in their educational development. 
"Let me say a few words to you as not only your dean, but as an alumna. I know firsthand the transformative impact of a Columbia education. You are about to embark on a journey that will challenge you—academically, socially, and ultimately, professionally. Embrace this opportunity, and make the most of the challenges ahead."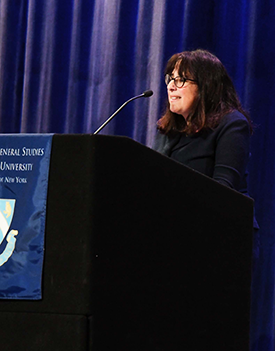 Dean Rosen-Metsch later emphasized the important role that GS plays in the quality of the undergraduate classroom of the University as a whole. 
"We prove time and time again that the classroom is far more engaging when GS students, with your diversity of life and academic experiences, are brought together in the classroom with students from traditional backgrounds—to benefit and engage one another intellectually and socially in creative ways," Rosen-Metsch said.
Newly-appointed Executive Vice President and Dean of the Faculty of Arts and Sciences Amy Hungerford followed Dean Rosen-Metsch's comments, addressing Columbia undergraduates for the first time during her tenure.
"Beginnings do not always start at the beginning...Dante's epic poem about human discovery [Inferno] starts in the middle of a human life's way. Some of the best stories do. Your Columbia stories do. You come to Columbia having been in the middle of life's way. Your ordinary is extraordinary. Each of you at some point paused and wondered and turned in a life's way that was already rich...but as Dante and so many others knew, a story needs a turn in order to develop; in the turn, things that we did not anticipate suddenly become possible," Hungerford said. "Your presence on this campus makes Columbia unique among elite universities. No other Ivy League institution has the privilege of routinely including the kind of extraordinary students you are in the ordinary college classroom."
Hungerford elaborated, affirming that the experiences nontraditional students bring to the classroom transform the University's collective understanding of complex ideas, from readings in literature and philosophy, to the study of politics or science, to arts and culture.
"Our most durable stories of a turn in life's way make much of guides and mentors. Listen to that history. Find your wise guides and mentors here. The faculty welcome you. We want to play that role. We are glad to have you at the table. Seek out wise teachers and wise peers who can guide you at the key moments of your next adventure; who can be your companions along the way...You belong here," Hungerford said.
Marlyn Delva, Dean of Students, followed these comments by assuring that the School stands ready to provide unparalleled support to incoming nontraditional students.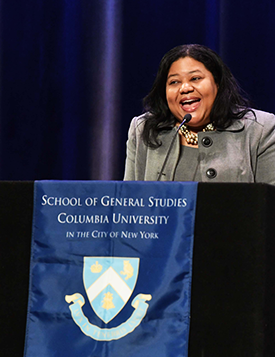 "At GS there is a community prepared to support and welcome you as they did me. It is a place like no other, with faculty, staff, and students committed to education and to the success of all those who enter through the University gates," Dean Delva said. 
Incoming students later heard from Dean of the Postbaccalaureate Premedical Program, James Colgrove, who encouraged incoming students not to let upcoming challenges discourage them; rather, to embrace them.
"Sometimes, almost certainly, your classes will frustrate you...When you are feeling that way (and at some point you will), you should, I suggest, do something counterintuitive and maybe a little paradoxical: slow down. Don't let the hard work of studying make you lose sight of the inspiration and commitment that brought you here. As future professionals devoted to caring for others, don't forget to care for yourself," Colgrove said.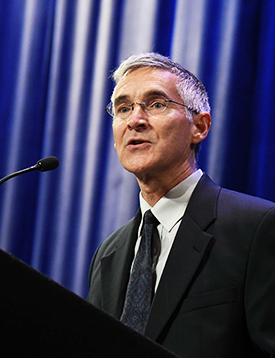 Following Dean Colgrove's remarks, General Studies Student Council Student Body President Chris Thompson reminded students in the audience the value they bring to the undergraduate Ivy League classroom.
"Diverse we are, for there is no single idea or identity that makes up the GS student. We arrive at Lewisohn Hall from all over the world, and we bring with us a breathtaking diversity of background and experience; of struggle and success. I have learned during my time at GS that it is precisely because of this diversity—not in spite of it—that we, as a community, have made something truly special in higher education," Thompson said.
Lastly, Brittney Hatcher, President of the Premedical Association, encouraged incoming students to take advantage of Columbia University's extensive network.
"The real value of attending Columbia is all of the people and resources that are unique to this institution. This is one of the most robust networking opportunities you will ever encounter. Take advantage of it! Developing these networking skills now will really benefit you in the long run," Hatcher said.   
I know first-hand the transformative impact of a Columbia education. You are about to embark on a journey that will challenge you—academically, socially, and ultimately, professionally. Embrace this opportunity, and make the most of the challenges ahead. 
Incoming GS students make up a diverse body, which boasts 52 U.S. military veterans, 19 veterans from foreign militaries, and international students representing 25 countries. This class also includes teachers, designers, entrepreneurs, dancers, venture capitalists, musicians, real estate investors, and workers in the nonprofit, healthcare, global affairs, government, law, hospitality, technology and securities industries.
Throughout the remainder of Orientation Week, NSOP Orientation leaders will guide the new GS students through social mixers, workshops about campus resources and academic practices at Columbia, and outings throughout New York City. NSOP is instrumental to new students' integration at the University and provides numerous opportunities to meet new and returning students, as well as alumni before classes start. 
An Overview of the Spring 2020 Entering Class
The School of General Studies continues to be one of the most diverse undergraduate colleges in the Ivy League, and this year's incoming class is no exception, counting among them a former classical pianist, military veterans, former professional actors and musicians, first-generation Americans, professional athletes, to name only a few.
The presence of GS students in the Columbia classroom enables the University, already one of the most ethnically and economically diverse undergraduate communities in the Ivy League, to define diversity on much broader terms—a truly global diversity of socio-economic background, age, life and career experience, and perspective.
40% of the incoming students are first-generation college students
30% of the incoming students are eligible for a Pell Grant
28% of the incoming students are U.S. military veterans
Enrollment
Undergraduate: 186
Postbac Premed: 34
Demographics
Age range: 18 - 58
Women: 44%
Men: 56%
Students who are married: 25%
Students with children: 4%
U.S. residents from 24 states and the District of Columbia
Citizenship
Twenty-five foreign countries are represented, including Aland Islands, Canada, Chile, China, Germany, Iraq, Israel, Japan, Kazakhstan, Mexico, Morocco, Nepal, Netherlands, Peru, Poland, Russia, Saudi, Arabia, Singapore, South Korea, Spain, Sweden, Taiwan, Tunisia, Turkmenistan, and Uzbekistan.