GS Student Speaks About the Power of International Education
Sylvester Benson '23GS recently addressed the Institute of International Education (IIE) to share his experience as an international student studying in the U.S. during the pandemic and his goals for the future.
November 18, 2021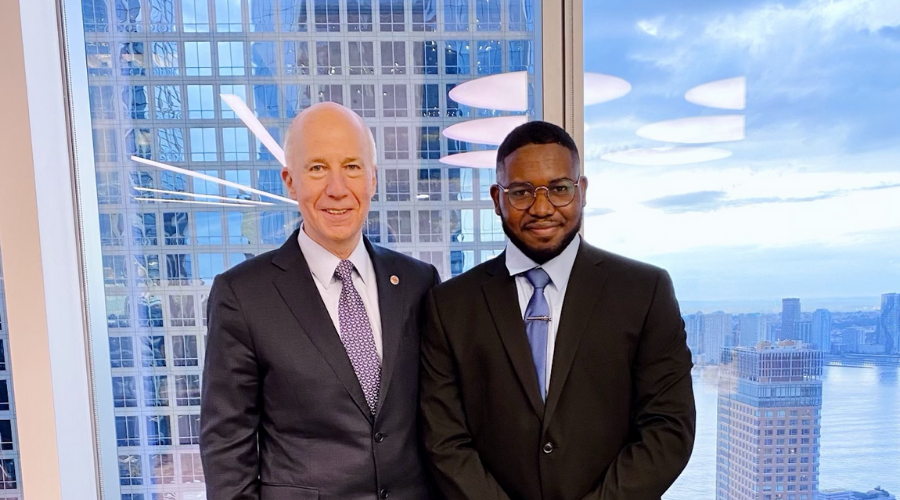 When Sylvester Benson '23GS was invited by the Institute of International Education (IIE) to share his experience as an international student studying in the U.S., Benson was elated to share his personal story. At the IIE's first in-person reception since the pandemic in late September, Benson spoke on behalf of IIE scholars worldwide, emphasizing "the power of international education," the organization's motto. 
"I thanked them for their tremendous efforts in promoting international education globally," he said. "I also recounted life as an international student in the U.S., spoke about how COVID-19 affected international students in the U.S., and lobbied for more support and funding for international students."
Benson has found enormous support from the IIE in his educational pursuits. "The IIE welcomed me as a member of the IIE family and has assured me that their headquarter's doors are open to me at any time," he said. "I have also been connected with many honorable and distinguished personalities at a very personal level to guide and mentor me."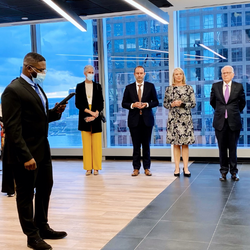 The IIE aims to promote international education and the sharing of knowledge across geographic borders by funding prestigious scholarships, creating a global educated workforce, and serving underserved communities. "I know very bright international students who dropped out of college because they could not finance it. I recognized how lucky I was while acknowledging how much work still needs to be done," said Benson.
Since starting his education at Columbia, Benson has been an active member of the community and was recently inducted into the GS Honor Society. He was part of the first cohort of the Justice and Pandemics Preparedness Academy, Columbia's selective co-curricular academy geared towards the interdisciplinary study of pandemic preparedness and systemic racism. In describing the experience, he said, "As an international student who is climbing the ladder of medicine and public health in the United States, I consider the JPPA as the best introduction to the American health system dissecting health inequalities and COVID-19, epidemiology and public health, as well as structural racism and injustice. I learned from well known public health experts like Dr. Robert Fullilove and Dr. Waafar El-Sadr."
This is the greatest part of my Columbia experience, and I have two more years to go! I never imagined meeting these people, let alone connecting with them on a very personal level. Standing tall at One World Trade Center, I knew I made the right decision to attend Columbia
Benson is a member of Globe-Med and Columbia-BOLD, where he is able to work with individuals from disadvantaged backgrounds. He is also the Senior Editor for Columbia's Undergraduate Neuroscience Journal, Grey Matters, and is passionate about making neuroscience research and breakthroughs accessible to the public.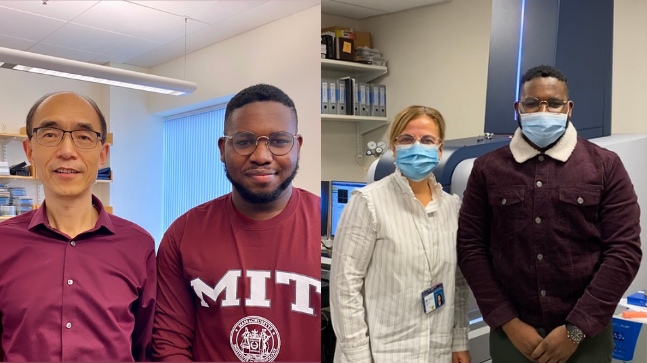 Currently, he is studying glioblastoma tumor progression and therapeutic interventions for patients with brain tumors as a research fellow at the Department of Neurological Surgery at the Columbia University Medical Center, in addition to participating in research rotations at Harvard Medical School and MIT.
An aspiring surgeon with a passion for research, Benson's post-Columbia dream is one that's close to his heart. "In the long term, my goal is to establish a cutting-edge teaching hospital in Ghana to increase access to quality healthcare as well as facilitate medical research and training," he said.
At the end of his speech last month, Benson reflected on his personal experience, as well as the larger mission of the IIE. "This is the greatest part of my Columbia experience, and I have two more years to go! I never imagined meeting these people, let alone connecting with them on a very personal level. Standing tall at One World Trade Center, I knew I made the right decision to attend Columbia," he said. "No matter where we come from, our dreams are valid."