GS Celebrates National Transfer Student Week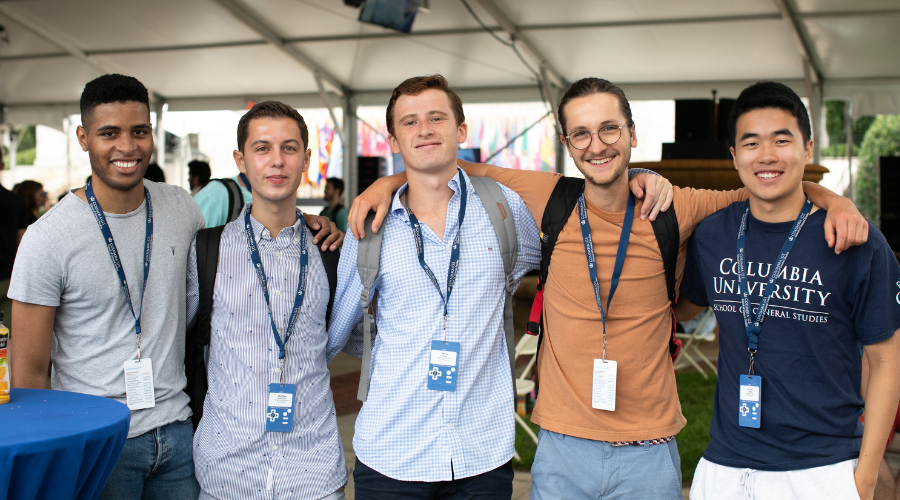 NATIONAL TRANSFER STUDENT WEEK
More than forty percent of students enrolled at GS transferred to the School after attending community college. Forty-three percent are first-generation college students. In addition, fifty-six percent of transfer students at GS are Pell Grant recipients and, overall, eighty-two percent of transfer students receive some type of institutional aid.
Last year, GS awarded $3.1 million in scholarships to students who transferred from community colleges. These funds provide students with essential support as they pursue their dream of a Columbia education, and Columbia GS hopes to raise $60 million over the next four years to provide further support to these students. 
Columbia GS is also world renowned for promoting the academic advancement and excellence of veterans. Twenty-one percent of transfer students at GS are veterans. In addition to a wide variety of academic and support services available to all veteran students at GS, the Columbia University Center for Veteran Transition and Integration (CVTI) plays an integral role in connecting active duty service members and veterans to resources that will aid them in transitioning out of duty.
Columbia GS has forged a strong relationship with community colleges from across the tri-state area and across the country. This includes the entire City University of New York (CUNY) system. The CUNY Accelerated Study in Associate Program (ASAP) helps students stay on track for graduation by providing a range of financial, academic, and personal support. 
Westchester Community College's President, Dr. Belinda Miles, applauds the broader approach to recruitment at Columbia GS, further explaining that the School's approach is better than many other traditional higher education institutions. 
Dr. Kathryn Jeffery, the Superintendent and President of Santa Monica College, shared her appreciation of how Columbia GS sets an example of other Ivy League and selective institutions, explaining that Columbia GS brings marginalized students to the forefront and breaks down barriers for access. 
Dr. James Mabry, a Columbia GS alumnus and former President of Middlesex Community College, recounts how many community college students struggle and even fail to connect within learning in a meaningful way. However, being able to come back and find their own path forward reduces their fear of failure and strengthens their self-reliance.
Chris Thompson '21GS, a transfer student from Red Rocks Community College and Class of 2021 valedictorian, recalled the gap between what he achieved in community college and his potential future achievements was his level of thinking and confidence. Lori Paulson '21GS, a transfer student from North Seattle College served the Columbia GS community as a Peer Advisor and an assistant for the Communication Office.
Events celebrating National Transfer Student Week will include student socials, Q&A sessions, and college fairs. Explore the Columbia GS National Transfer Student Week website for more information about these events, read transfer students' unique stories, and more.