Crafting for a Cause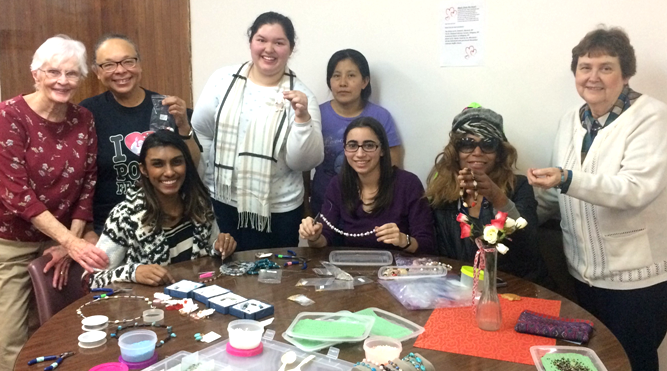 On January 25, five Postbac Premed students visited The Dwelling Place, a women's shelter in Midtown Manhattan, to teach the art of jewelry making and engage in conversations with residents. The event was sponsored by the recently-created student organization Crafting for a Cause: A Wellness Initiative.
Students and residents used their time together to teach and learn the intricate work necessary to make fine jewelry as a form of stress relief. Residents learned how to create, string, and end their various pieces of jewelry while sharing life stories with the student volunteers. One resident, who is also a Columbia University alumna, had everyone captivated as she reflected on what she had learned throughout her life and how she now deals with her own stresses. While the stress that students feel and the stress that residents endure are quite different, together they helped each other alleviate—at least momentarily—the anxiety of the day.
The women at The Dwelling Place created many beautiful pieces for themselves and their families. After showing the residents some jewelry-making techniques, the students made pieces of their own, the majority of which were donated. Participants left enriched by the experience and look forward to returning soon. They are grateful to The Dwelling Place for their hospitality and warm welcome, and to the women who live there for sharing their stories.
In addition to jewelry making at The Dwelling Place, Crafting for a Cause, together with the Columbia Society for Medical Humanities, hosted a wellness jewelry-making session in the General Studies Lounge, right before midterms. It was a successful event, with many students making jewelry not only as holiday gifts for their friends and families, but also as donations for the women of The Dwelling Place and children in local hospitals. This program, together with a well-attended pre-finals session in December of 2016, produced a great number of pieces of jewelry to be donated.
Crafting for a Cause: A Wellness Initiative is a student organization within the Columbia Premedical Association (PMA), created to provide Postbac Premed students with a safe space to de-stress and unwind through making fine jewelry. Community outreach is presently shared with The Dwelling Place and Music that Heals. With the help of Music that Heals, the jewelry is donated to children in local hospitals.
---
The next jewelry-making session will be held later this month, and all GS students and alumni are encouraged to participate. For more details, email Marilou Fonti.