83 Students Inducted into GS Honor Society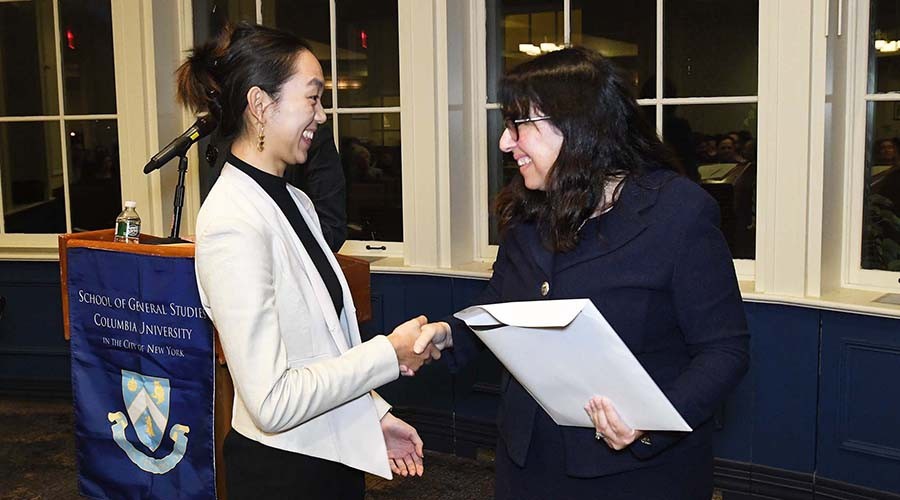 On Thursday, October 10, faculty, staff, friends, and family gathered at Columbia's Faculty House to celebrate the induction of 83 students into the School of General Studies Honor Society.
The GS Honor Society was created in 1997 to recognize the exceptional academic achievements of GS students who have earned a cumulative GPA of at least 3.8 in more than 30 points of academic coursework at Columbia. Dean Lisa Rosen-Metsch welcomed the attendees with opening remarks, followed by the presentation of the new members by Victoria Rosner, Dean of Academic Affairs.
"These students are not everyone's idea of 'typical American college students.'  Many of them are international in their origins, and global in their outlook.  They have a maturity derived from life experiences including military service, parenthood, career achievement, immigration, and artistic endeavor.  Many have rebounded from significant challenges including serious illness, financial hardship, addiction, bereavement, incarceration, and ethnic persecution.  A number of these students are the first in their families to attend college, or even the first in their families to complete high school.  Others have had to postpone their own educations to care for family members.  Some are immigrants to the U.S.  Many of these students began their academic careers at community colleges, and through extraordinary accomplishment and initiative, forged a path to Columbia.  Talk about a growth mindset.  We find them now at the pinnacle of undergraduate academic success at Columbia.  Every one of them, whatever their backgrounds, has worked hard to earn a place here," Dean Rosner said.
Among those inducted this spring are students enrolled in the School's dual-degree programs with List College of Jewish Theological Seminary, with Sciences Po in France, with City University of Hong Kong, and, for the first time, with Trinity College Dublin, and students from countries all around the world, from Egypt to France, Tajikistan to Canada, and China to Poland.
Dean Rosner said, "Our dual degree program students, significant among tonight's inductees, represent another kind of diversity at Columbia GS – students who have chosen to pursue a non-traditional approach to undergraduate education by attending two colleges. These students articulate an unusually strong sense of civic responsibility.  They see their education as a way to prepare for careers of public service, which can mean government, business, international development, and other paths.  Broadly speaking, these students are here to receive a first-rate education that they can put to work in the service of building a more just and equitable society.  When our Honor Society students work for their higher grades, they are not just boosting their GPAs but working with a more ambitious goal in mind."
The chief aim of the GS Honor Society is to cultivate interaction among those committed to intellectual discovery and academic excellence. The only group of its kind at the University, the Society offers opportunities throughout the year for its student and alumni members to interact with one another, as well as with the faculty who enjoy working with such outstanding scholars.
Inductees
Hanna Agbanrin
Hayat Aljowaily
Rachel Menina Grace Attix
Zhujun Bao
Clayton Nicholas Becker
Emily Anne Beiser
Romane Blanc
Cedric Kim Blue II
Alexa Jo Boncimino
Ethan Gerard Campbell Foley
Emma Anne Caragozian
Samuel Cardwell
Lok Yan Chan
Sinet Chelel Chelagat
Zhuoran Chen
Carmen Cheung
Tae Won Chun
Daniel Marc Cizin
Liam Alistair Collins
Sophia Cronin
Joseph Varano Cushner
Tristan Michel Alexandr Delacour
Yuqian Deng
Douglas Di Canio
Sumer Singh Drall
Leopold Dubreuil
Elias Pierre Forneris
Christian Alexander Gaeth
Karim Gharib
Ryan Michael Glassman
Alvaro Gonzalez Rubio
Maxwell Cowie Goodman
Charles Douglas Greenstein
Garrett Liam Gregor-Splaver
Kaja Grujic
Astrid Wik Hallaraaker
Madison Elisabeth Haussy
Jane Ellen Henderson
Scout Inghilterra
Lucy Jeffries
Luca Jobbagy
Griffin Alexander Jones
John Kadlick
Magda Kamila Kadlubowska
 Isabelle Zarrina Kalandar
 Vivek Kantamani
Ciara Emer Kavanagh
Edward Ray Kim
Christina Shabu Koshy
Kelley Emily Kwong
Marine Chan Le Gloan
Kyle Lee
Noa Lucie-Reine Levy Baron
Jessica Bin Li
Sixtine Louise Eugenie Lyon
Chaya Malik
Sarah Jeanne Marcotte
Halley Michal McDonough
Sara Catherine McGeough
Linas Marius Nasvytis
Jennie Rose Nelson
Giang Huong Ngo
Tae Hoon Brian Oh
William Alfred Pagel
Lucienne Marie Paradis
Lori Louise Paulson
Miyo Marlena Peck-Suzuki
Jamie Sahay Peltomaa
Antoine Pilone
Alexander Milton Pliskin
Judith Manon Lily Proch
Sydney Jayme Proffitt
James Takashi Quinn
Jolene Singh
Angel Manuel Solis
Catherine Sprague
 helsea Sunrise Talwar
Valentine Truchot
Monica Kathleen Villalon
Max Nathan Waldroop
Cunzheng Wang
Jieyan Zhu
Dylan Taylor Zuccherino