70 Students Inducted into GS Honor Society
On February 27, faculty, staff, friends, and family gathered at Columbia's Faculty House to celebrate the induction of 70 students into the School of General Studies Honor Society.
February 28, 2019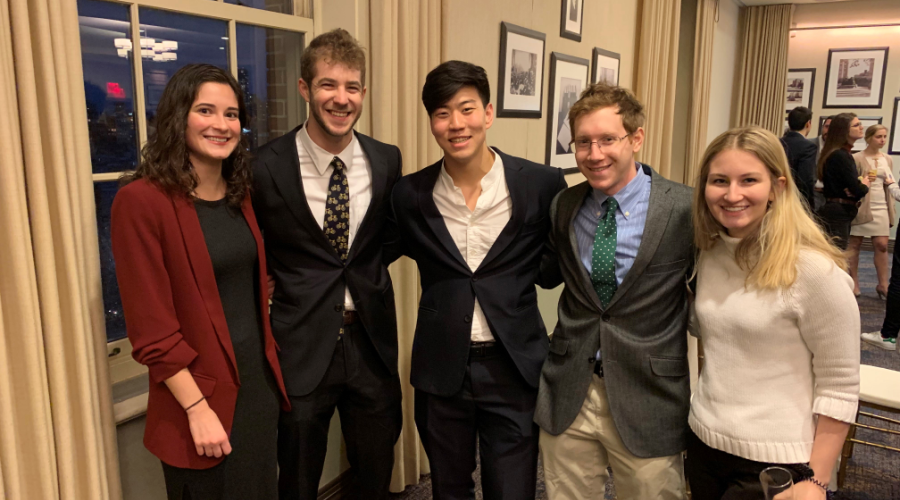 The GS Honor Society was created in 1997 to recognize the exceptional academic achievements of GS students who have earned a cumulative GPA of at least 3.8 in more than 30 points of academic coursework at Columbia. Dean Lisa Rosen-Metsch welcomed the attendees with opening remarks, followed by the presentation of the new members by Victoria Rosner, Dean of Academic Affairs.
"These students are not everyone's idea of 'typical American college students.' Many of them are international in their origins, and global in their outlook. They have a maturity derived from life experiences including military service, parenthood, career achievement, immigration, and artistic endeavors. Many have come back from significant challenges including serious illness, financial hardship, addiction, bereavement, and homelessness. A number of these students are the first in their families to attend college. Others have postponed their own educations to care for family members. Yet here they are at the pinnacle of undergraduate academic success at Columbia. Each one of them, whatever their backgrounds, has worked hard to earn a place here," Dean Rosner said.
Among those inducted this spring are students enrolled in the School's dual-degree programs with List College of the Jewish Theological Seminary, Sciences Po, and City University of Hong Kong, and students from countries all around the world, including Luxembourg, Armenia, and Japan.
"These students have practiced just about any profession you can name, including combat medic, pastry chef, accountant, rugby coach, nanny, ballet dancer, web developer, house cleaner, yoga teacher, sandwich shop manager, political campaign operative, model, resort attendant, taxi driver, makeup artist, real estate agent, minor league baseball player, military data analyst, model, hotel manager, entrepreneur, actor, nuclear engineer, restaurateur, dog trainer, and patent engineer, among others," Rosner said.
The chief aim of the GS Honor Society is to cultivate interaction among those committed to intellectual discovery and academic excellence. The only group of its kind at the University, the Society offers opportunities throughout the year for its student and alumni members to interact with one another, as well as with the faculty who enjoy working with such outstanding scholars.
Spring 2019 GS Honor Society Inductees
Marion Abou
Alexis Lauren Anttila
Anna Liora Ballan
Tolga Bozkaya
Michelle Ashley Edejer Capuno
Chunlin Chen
Roland Chen
Christine Cho
Mariya Chukhnova
Filip Coman
Brigid McInnes Connelly
Katrina Magi Crawford
Benjamin Joseph de Toledo
Margaret Sabrina Delafield
Paul-Angelo dell'Isola
Trevor Lewis Dines
David Dirnfeld
Matthew Duran
Aidan Mark Krakowsky
Jessica Nicole Krejcie
Patrick John Kruger
Joshua Mohandas Lefkow
Arad Lev Ari
Daniel Harry Levine-Siegel
Nina Lucy Locke
Ellen Lou
Giana Lozano
Matan Simcha Malka
Lilit Victoria Markosian
Lexie Ruth Mitchell
Bex Montz
Robert Shohei Okada
Eden Sky Orion
Marlon Webster Paine
Erick Paiva Nouchi

Alex Tze Han Foo
Biao Huan Foo
Dinko Domagoj Franceschi
Eleanor Darnell Frith
Lawrence Brandon Garafola
Naomi Greenfield
Mark Gyourko
Tina Haertel
Faith Arianna Hahn
Matan Hillman
Elinor Grace Hitt
Noah Max Igra
Fernanda Jimenez
Adelaide Holdship Jones
Hana Joy
Ayesha Giulia Kapur
Bo Hyun Koo
Malka Devora Korenblit
Marianna Podzorova
Juliette Powell
Sergio Rico
Kennedy Jillianne Roese
Alexander Jacob Saltiel
Jonathan Schory
Spencer Szwalbenest
Christopher Robert Thompson
Keshav Ramachandran Vellodi
Sarah von Bargen
Qing Wan
Hali Rebecca Woods
Lihao Xiao
Simon Bartholomew Xu
Isabelle Eleonore Zaslavsky
Xinya Zhang
Tal Itzhak Zilkha